If you're looking for fun adventures to do with your boyfriend, you've come to the right place. These romantic date night ideas and playful afternoon outings are an ideal way to tap into your spontaneous side and enjoy quality time together.
And they come with perfect timing, too. Because not only do they boast fun stuff to do as a couple during the "in-between" season of late summer and early fall… But most are also easy-peasy to enjoy at almost any time of the year!
Don't believe it? Just have a look for yourself. These suggestions range from rare to outrageous, silly to sweet, and heartfelt to heart-pounding. Best of all? You'll ditch the "traditional" date nights that trap you into a routine.
So add some spice to your love life, and let the adventures with your boyfriend begin!
From axe throwing to escape rooms, these fun and exciting activities are perfect for you and your boyfriend!
Inspire each other's creative juices and learn the tricks to a fun new trade! Find a lesson for painting, woodworking, glassblowing, pottery, or any other type of crafty medium you can dream up. You don't have to be a master to design a masterpiece fit for your home.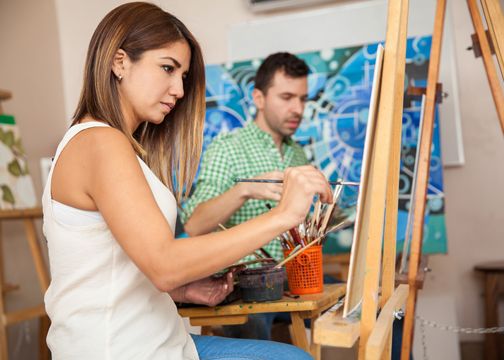 Let all of your cares drift away as you soak up some R&R together. Treat yourselves to a day at a professional spa venue. Or, indulge in a DIY day, full of romantic things to do with your boyfriend at home: massages, masks, bubble baths, soothing music, and maybe even some tea or bubbly.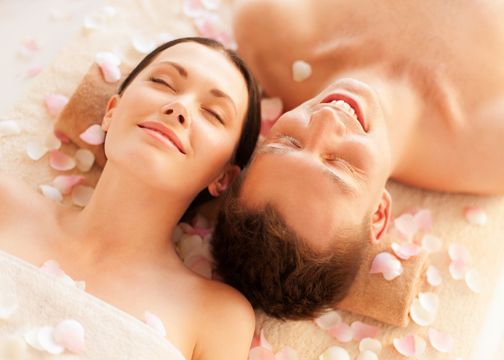 3. Lace Up Bowling Shoes
There's absolutely nothing wrong with resorting to a classic when you're looking for things to do on the weekend with your boyfriend. Line those pins up and knock 'em down for a fun-filled afternoon or evening on the lanes with your main squeeze.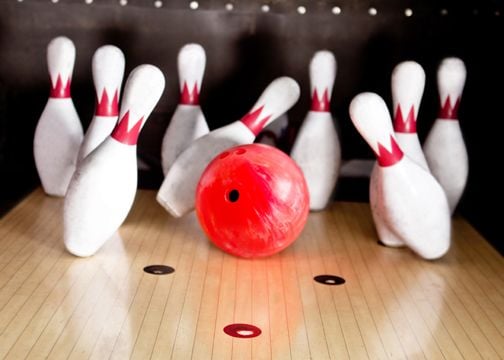 When it comes to romantic evening ideas, what could be better than being locked in a room with your beloved? Seriously though, this trendy outing will test your sleuth skills as a power-couple, as you solve riddles and clues to elude the likes of vengeful ghosts, zombies, histories, mysteries, villains, and more. (Psst, these also make for fun adventures to do with friends, too!)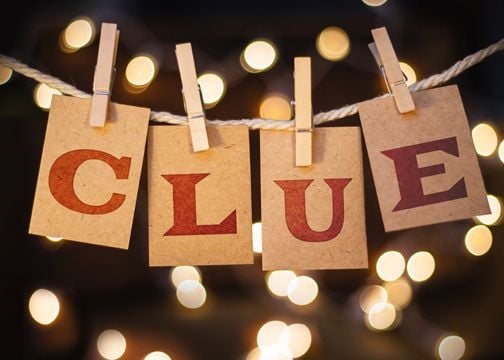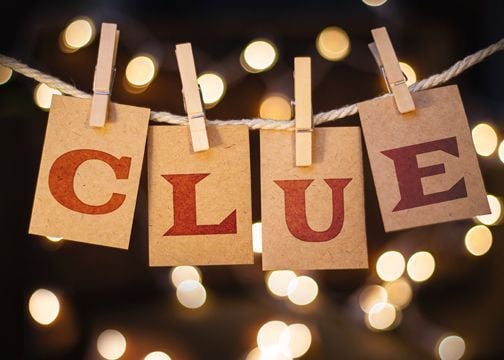 5. Be an Arcade Junkie
Add a little bit of retro-love to your date night ideas. Swing by a hot spot that boasts the likes Pacman, TMNT, skeeball, pinball galore, and much more. Be sure each of you is armed with plenty of quarters. Then let the games begin!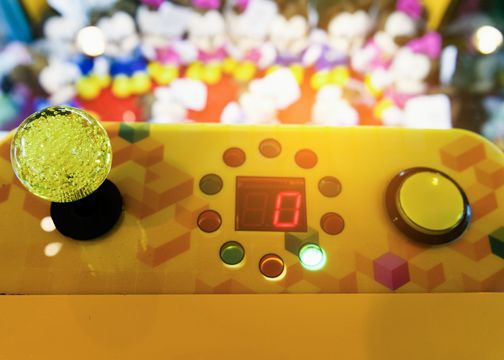 Email Sign Up
Receive $10 off your first experience at Virgin Experience Gifts.
6. Play BINGO Somewhere
BINGO has no age restrictions, no matter what the world tries to tell you. And neither does luck. So put the two together, and get in on a lively game of it for some laughs. And maybe even score some extra cash, too!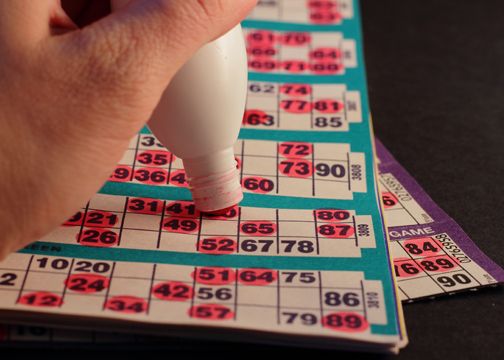 Attend a local comedy show! Leave reality and serious conversation behind, and go crazy with a giggling crowd. While it's no guarantee all of the material will be appropriate (is it ever?), you can rest assured your cheeks will hurt afterwards from all the smiles.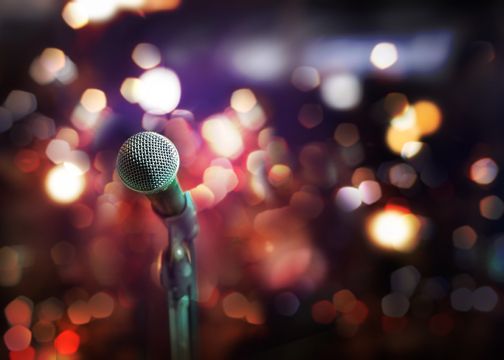 Shake up your daily regime with splashes of science, culture, history, art and more! You'll be supporting your community while expanding your own horizons. And you'll be doing it as a dynamic duo! So even if these sorts of outings aren't your "norm," just remember that variety is the spice of life.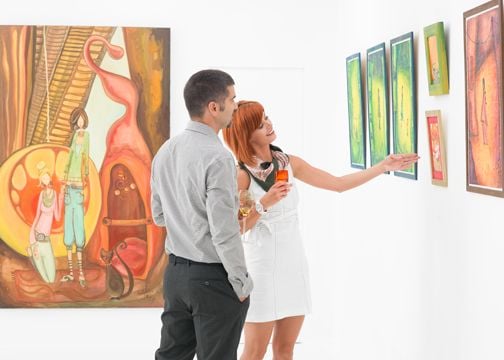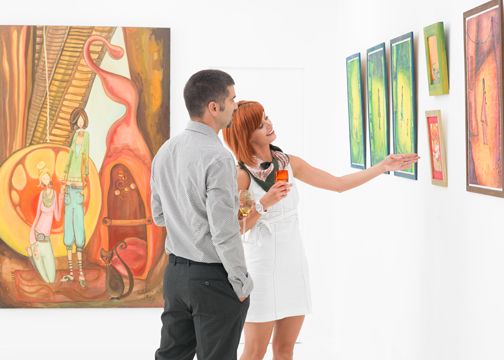 Leave ordinary romantic date ideas behind, trading them for a meal and a murder. Now that's something the two of you won't soon forget! This fun adventure to do with your boyfriend will have you wining, dining and honing your 'whodunnit' detective skills together.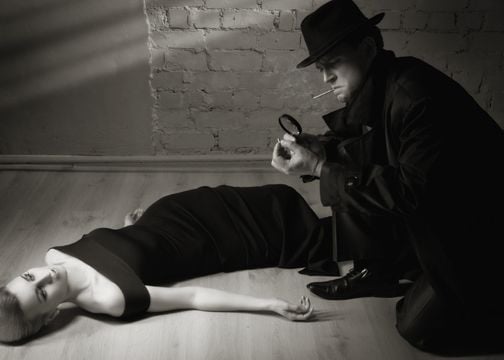 10. Billiards and Beer
Beer is a great pairing for a lot of things in this world. But few will argue about its natural partnership with billiards. If Mother Nature strikes again and you're searching for things to do on the weekend with your boyfriend to stay warm, a solid dive bar is sure to come to the rescue!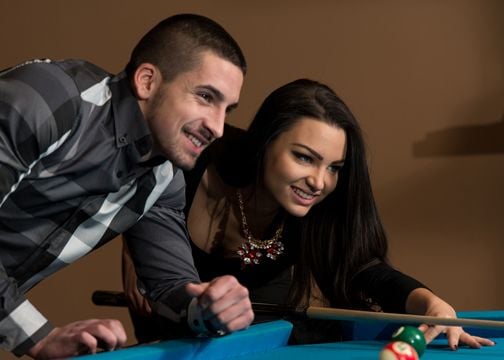 11. A Bookstore is a Novel Idea
Need more ideas for dodging a chilly day? Grab a cozy coffee and wander the aisles together, lost in endless mystery, romance, suspense, sci-fi and more! Buy each other's top pick, and relax for a few nights of reading beside one another. Talk about a cute thing to do with your boyfriend!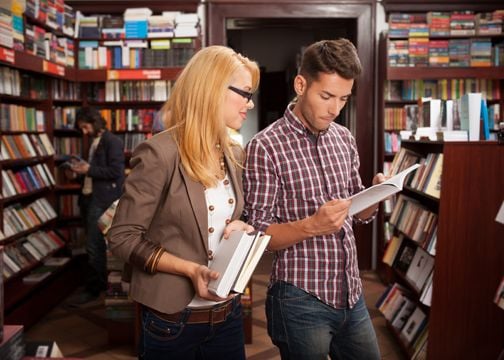 12. Play Laser Tag
Legit question: when was the last time you did this? Let the good times roll again with a blast from your childhood past! This fun indoor adventure with your boyfriend will not disappoint. Go get trigger-happy together—bonus points if you hit up a happy hour beforehand.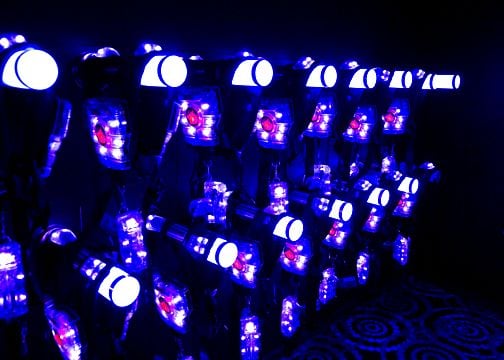 13. Roller Skating Rink
Since we're on the topic of throwbacks, this list of things to do on the weekend with your boyfriend absolutely would not be complete without this epic outing. See if you still have the spry coordination to make it around the rink unscathed. Then get ready for the always anticipated partner-skate!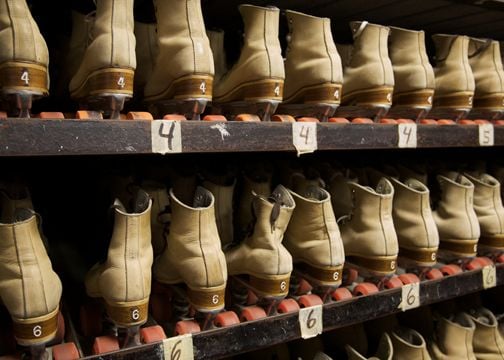 14. Play Bar Games
If the both of you share a competitive edge, these simple games will bring inexhaustible fun on an afternoon or evening. Shuffleboard, darts, cornhole and any other games offered at a local watering hole can make for fantastic date ideas! And better yet, loser buys the last round.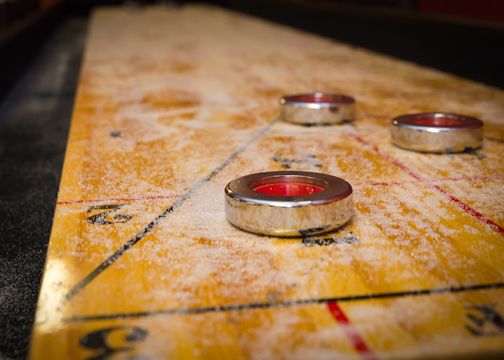 There are endless ways to tantalize the taste buds within any city's limits. So venture away from your 'norm' to try new kinds of food and drink: beer, wine, whiskey, local grub, chocolates, and plenty more.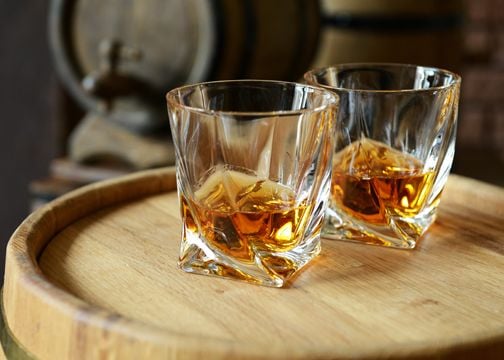 16. Movie Theater Date
In these days of Netflix and OnDemand TV, it's sometimes rare to go to an actual cinema anymore. (What happened to the date nights where that was the thing to do on the weekend with your boyfriend?!) So splurge a little! See a flick on the BIG screen, complete with popcorn, soda and candy.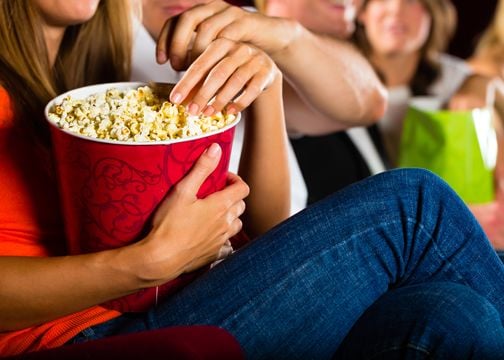 Unleash your inner rhythm with a one-off dance lesson. Try a few new steps together with something casual like line dancing, catchy like salsa, classy like ballroom, or anything in-between that gets your feet movin' to a hot beat.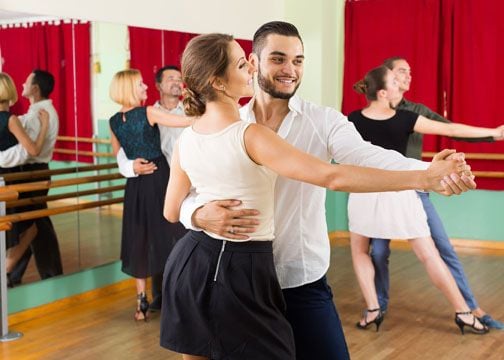 18. Axe Throwing
See what all the fuss is about and challenge your friends to a round of axe throwing! With the help of an expert instructor, you'll learn how to throw like a pro. Whoever hits the most bullseyes will take home the title of axe champion!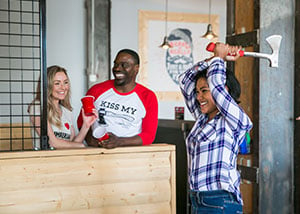 Soak up some Vitamin D and enjoy some time in the great outdoors with your boyfriend.
In the spirit of outdoor adventures to do with your boyfriend over the weekend, why not hit the trails? Pick a path that has your preferred level of challenge. Then get lost in the wonders of the wilderness together. If you'd rather hike with a group, then you won't want to miss these unforgettable hiking experiences!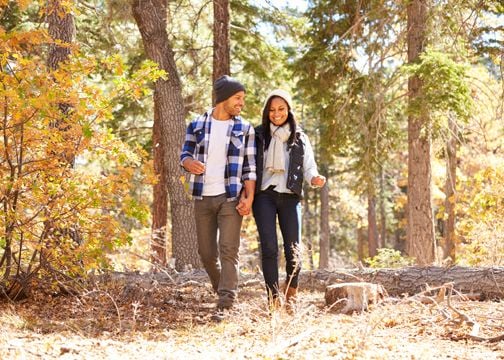 For a truly great escape in the wilderness, look no further than your own river that runs through it! Learn a new hobby, enjoy some serious serenity, and marvel at stunning scenery. Those three elements combined make this outing on of the most fun things to do with your boyfriend outside!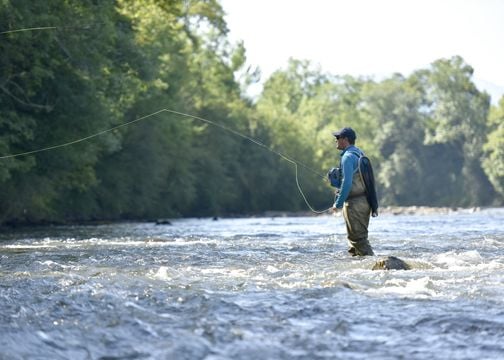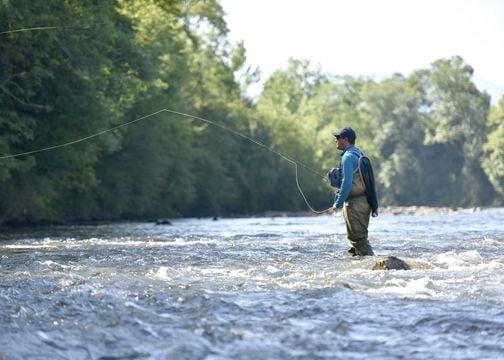 Raise a glass to the best boyfriend on Earth with a beer tasting or brewery tour! Whether you prefer hoppy IPAs or fruity sours, you'll sample some of America's best brews. Now that's what we call a date to remember!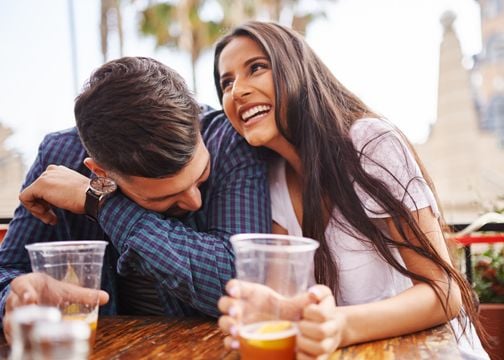 Here is yet another way to make a traditional dinner date a bit more exciting! Wine, dine and maybe even dance aboard the H2O or railways. Romantic date night ideas like this not only make for adventurous eats, but also offer plenty of entertainment including photo opps and dazzling scenery.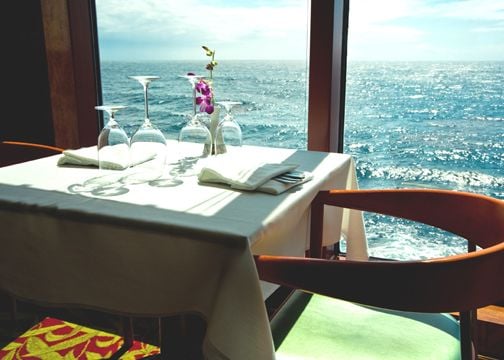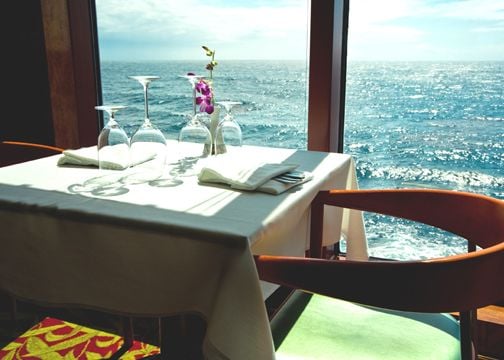 Whether it's mini golf or the real deal on a course, this is a fall or summer adventure with your boyfriend that's not to be missed! Between the goofy course themes and beer carts, you can enjoy a light-hearted afternoon together enjoying the season's finest ambiance.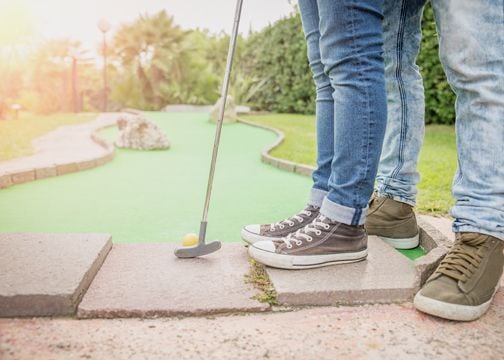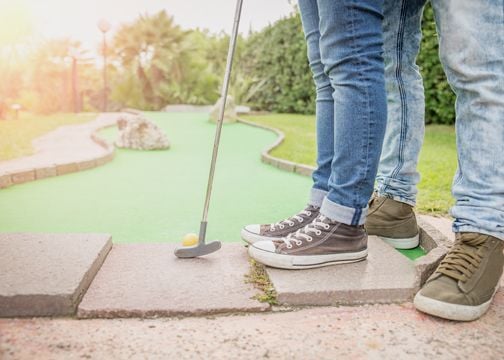 23. Cozy Up to a Campfire
Enjoy an evening of tantalizing flames in the backyard or out in nature. The warm, romantic glow of the fire will be pretty fun too (*wink, wink*). Especially if it involves s'mores. Made with Reese's Peanut Butter Cups. *Yum!* Don't have a firepit? Bring the outdoor adventures inside with this Date Night in a Box!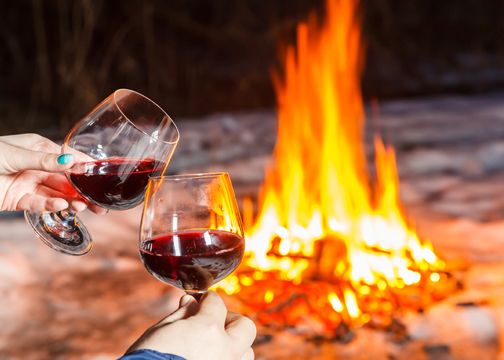 Watching impressive pyrotechnics light up the sky is one of the best things to do with your boyfriend on a date. They never go out of style, and it's tough to tear your eyes away from the bursting beauty. Unless, of course, it's to steal a smooch or two against the dazzling backdrop. Check social media to find free displays that may be presented after events like local ball games, fundraisers, etc.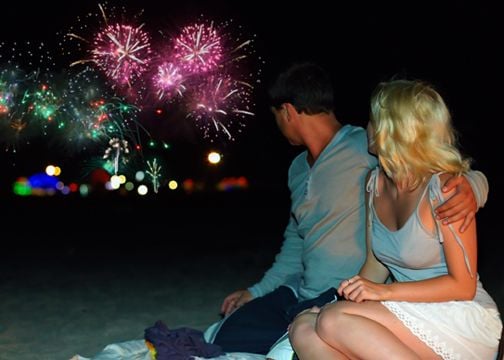 One of the most romantic adventures with your boyfriend is horseback riding. Nothing quite compares to romping through gorgeous terrain saddled up to one of the most magnificent beasts on the planet. Get wonderfully lost in the wilderness, and maybe even enjoy a picnic along the way!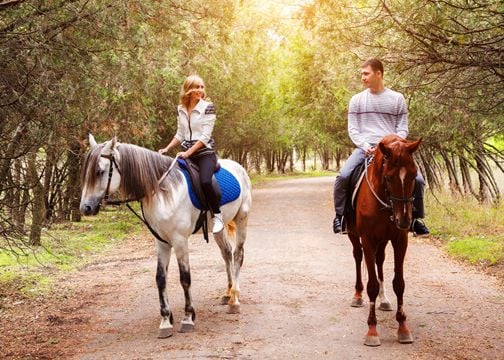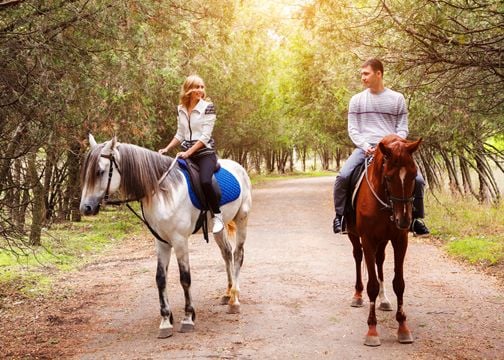 26. Go Camping
Leave the hustle and bustle of the city behind for some peace and quiet. Take to the great outdoors to savor some quality time together. Between wildlife sightings and lush foliage, you're bound to behold a bunch of gorgeous scenery as well.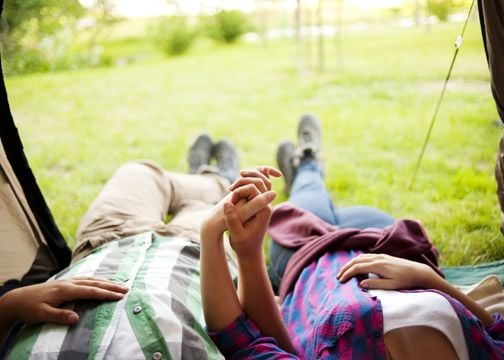 Check out a guided outing of how your city's history has morphed into local hauntings.  While it may entail an eerie undertone, you're still likely to stop by area watering holes, hotels, and swanky stops that will give you romantic date night ideas for the future (if you dare return).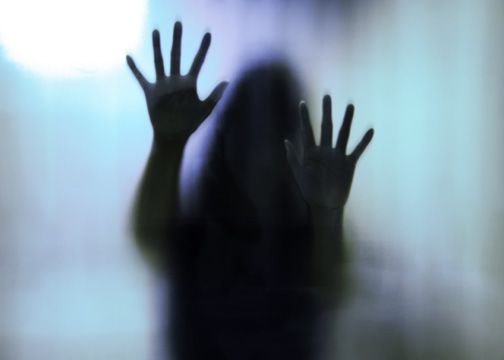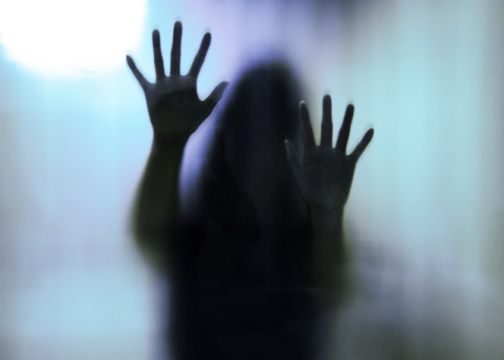 28. Catch Up on Constellations
Seeing as your last astronomy class may have been a while ago, here's a romantic date idea that's perfect for those warm nights: get to know those dazzling dots in the sky again! Snag a star chart and find a spot offering an unobstructed view of the majestic expanse overhead. A bottle of wine adds a nice touch to this sweet 'n' simple outing.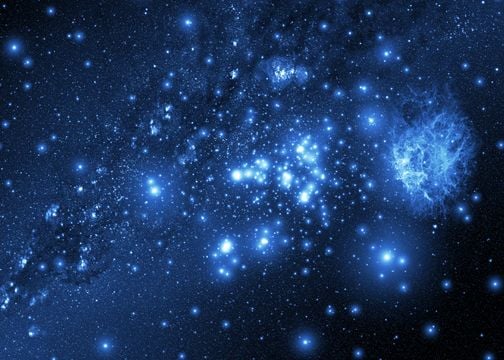 29. Random Road Trip
One of the most fun, spontaneous things to do with your special someone is to just jump in a car and drive. Buckle up and see where the road takes you. Take on as many twists, turns and miles as your hearts desire. Drive until you don't want to anymore. And explore wherever you end up. (Then thank your lucky GPS for easily finding your way back.)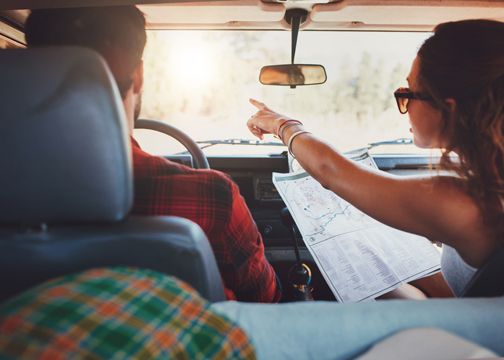 30. Go Geocaching
This outdoor activity should be on every couple's bucket list! Find hidden 'treasure' using a GPS, compass, area map and coordinate location. Caches are often 'hidden in plain sight' (no digging required!), and range in size from that of a pen, to large aluminum boxes. While the memories and gratification of having found it are guaranteed, you may also score some non-perishable loot (books, keyrings, toys). Check out geocaching.com to get started!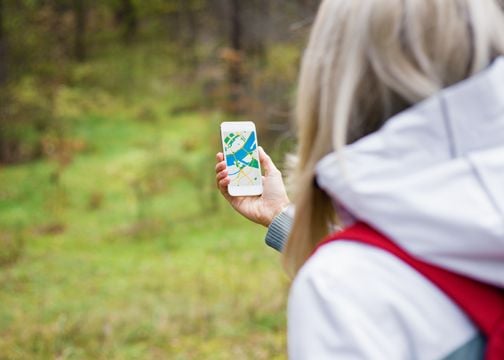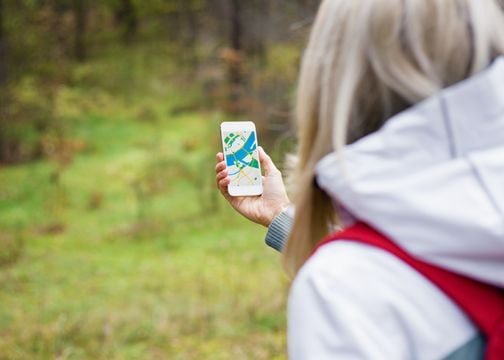 Make some memorable waves this summer with fun things to do with your boyfriend outside and on two feet! Whether you take lessons or enjoy a leisurely afternoon casually putzing around a lake, this outing will be one for the books! You can't beat the summer sunshine, smooth waters and smiles shared.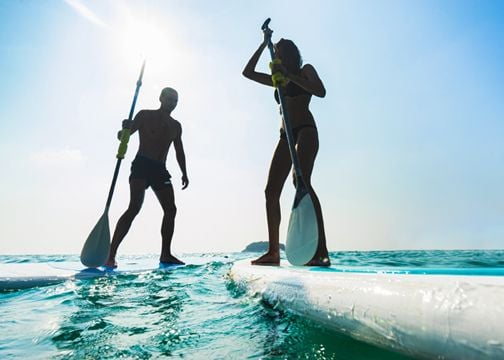 Don't knock it 'til you try it! Segways sure do turn heads for a number of reasons. So there's no doubt that if you're behind the 'wheel' of one, it will be an unforgettable experience! This fun adventure with your boyfriend is a fantastic way to see your favorite urban digs in a brand new way.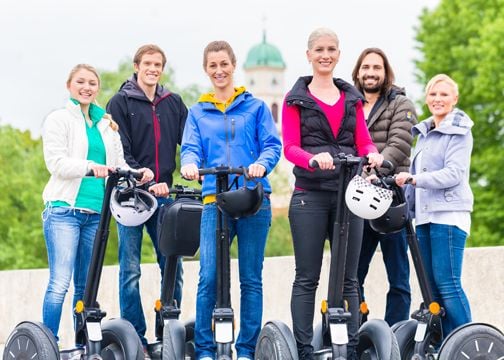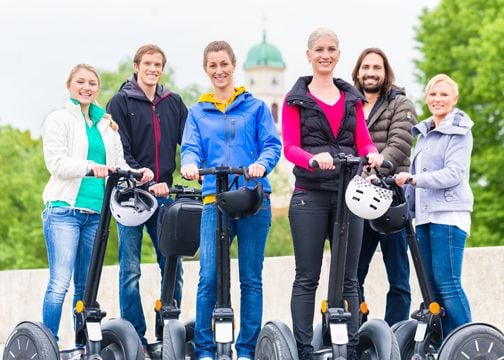 This fun adventure to do with your boyfriend is an incredible way to try a new hobby and immerse yourselves in the great outdoors! Get in touch with a local rec center to get your feet wet learning some basics on an indoor climbing wall. Then gradually discover the exciting natural terrain that comes with this hobby.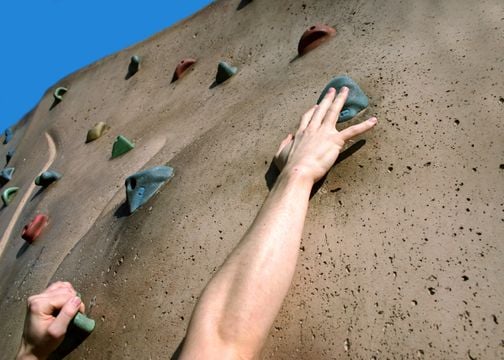 34. Root for the Home Team
Check out a local sporting event. Whether it's a major or minor league game, you won't be able to beat the atmosphere. With endless amounts of cheering, cold beverages and greasy food, it's no wonder this is such a good time. Add some matching face paint, and you've got on heck of a cute thing to do on the weekend with your boyfriend!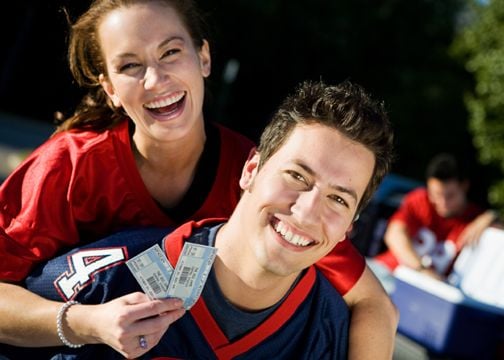 35. Enjoy the Great Outdoors (Without Any Electronics)
This should be one of those things to do outside with your boyfriend that needs no explanation. Just get ready to remember the most vibrant memories, conversations and mental pictures you've ever collected in your life… screen-free.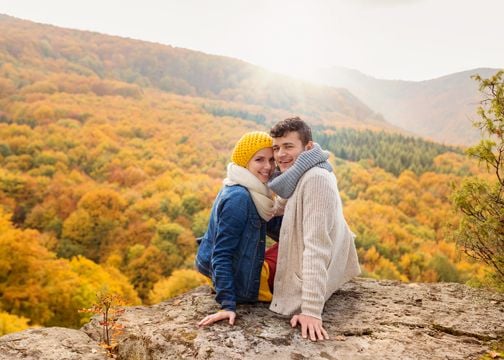 Row, paddle, or go full-throttle! You know what speed best suits the two of you. So take a break from landlocked activities, and take to the water to try a fun adventure to do with your boyfriend. Soak up some sun, and enjoy a playful day on the H2O together.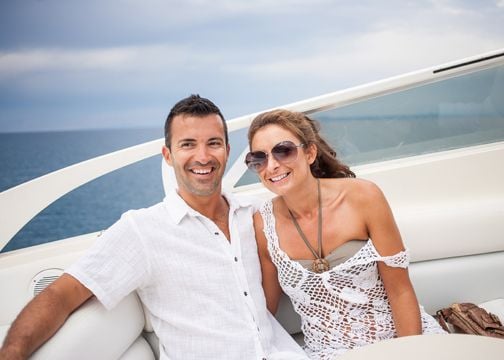 Double the outdoor fun with a two-seater! Besides being a downright blast, this is one of those things to do on the weekend with your boyfriend that secretly works as a 'trust test.' See if you each have confidence in the other's 'driving' skills. And if you actually help carry the weight when pedaling.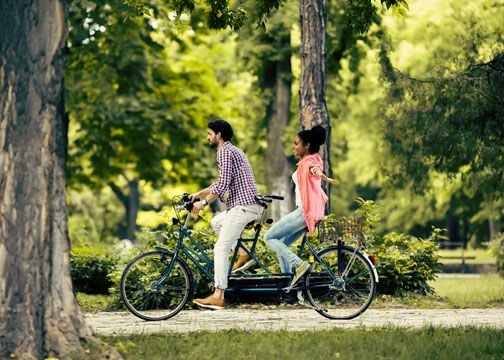 38. Public Transportation Adventure
If you are lucky enough to own a car, it's a safe bet you don't use public transportation all that much. So why not branch out? If there's a train or bus system in town, hop aboard it! Buy a ticket without an agenda, grab a seat, and see where it takes you!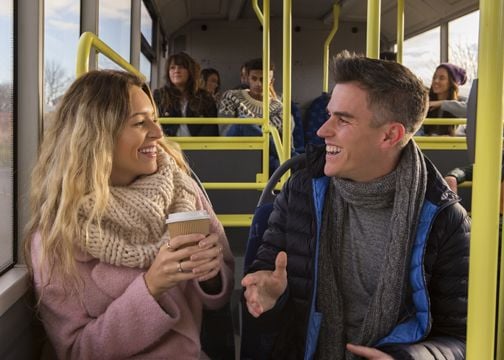 39. Sweat It Out
Want to try a weekend activity with your main man that's the picture of good health? Squeeze in a workout! Get those endorphins going strong with a gym session or a run in the fresh air together. Plus, burning calories and pumpin' iron is much more fun as a pair.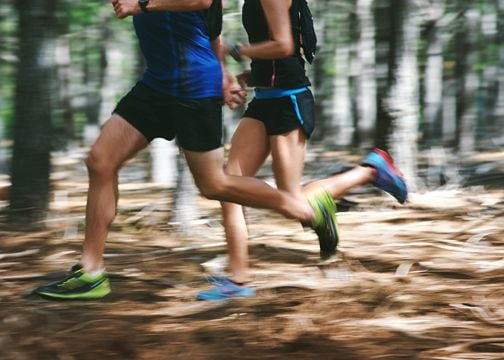 Looking for the ultimate adventure? These once in a lifetime experiences deserve a spot on you and your boyfriend's bucket lists!
Strap on a helmet and tap into your wild sides! Enjoy an outdoor adventure with your significant other that comes with a solid dose of adrenaline. ATV'ing is a fantastic way to spend some weekend time exploring unique landscapes and creating some tall tales to tell later!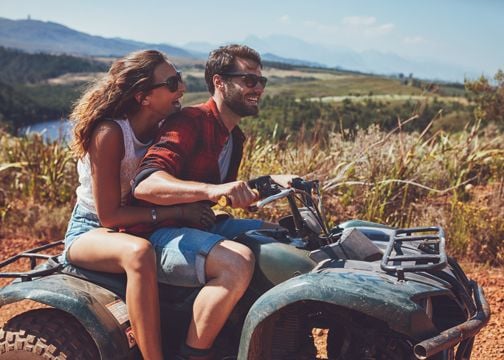 It may sound cliché, but if this hasn't been scratched off both of your bucket lists just yet, then it's time to prepare for take-off. An outdoor adventure with your boyfriend like this is one for the books. Already taken the outside plunge? Then try indoor skydiving for a new twist on an old favorite!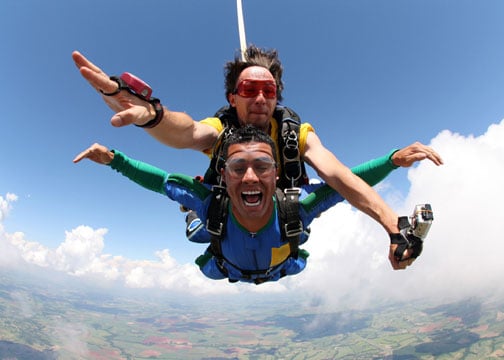 Take your relationship to new heights with this whimsical wander to the air up there! Hands down, there are no fun adventures to do with your boyfriend this summer or fall that will top this one. Marvel at the world below in lush, vibrant bloom in warm months. Or admire the array of colors below if you opt to go as the air turns crisp.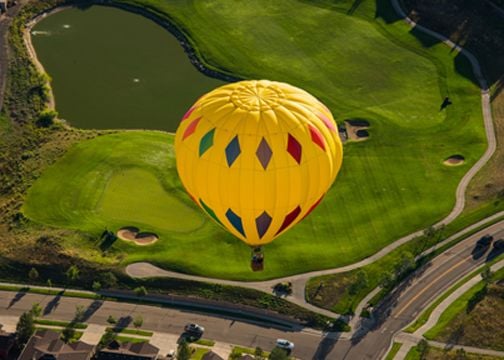 Sometimes the best things to do on the weekend with your boyfriend mean doing nothing at all. For a nice, low-maintenance getaway that can't be beat, head to a bed-and-breakfast for some quality rest and relaxation. Or, check out these incredible overnight retreats! From murder mystery weekends to fairytale getaways, you won't want to miss these relaxing adventures.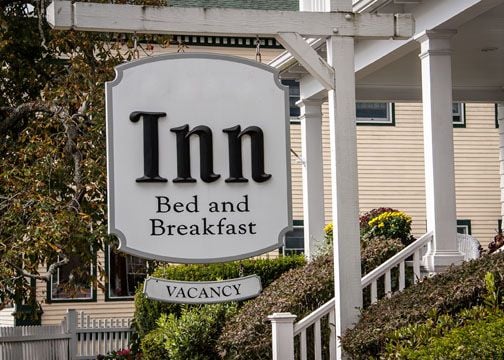 This fun thing to do with your boyfriend outside probably needs no further explanation. What could be more invigorating and bring more smiles, happy yelps, and memories than harnessing up to a cable and soaring among the tree?! That's a pretty sweet mission accomplished.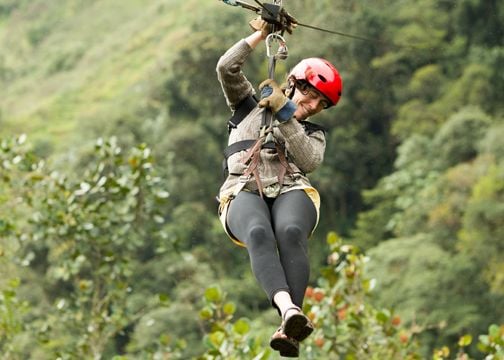 Can you handle fun things to do with your boyfriend outside that come with a healthy dose of "adrenaline rush"? Then spread those wonderful wings and fly, baby! Try a tandem flight with a pro or even take a lesson. An outing like this guarantees plenty of story-swapping for many dinners to come.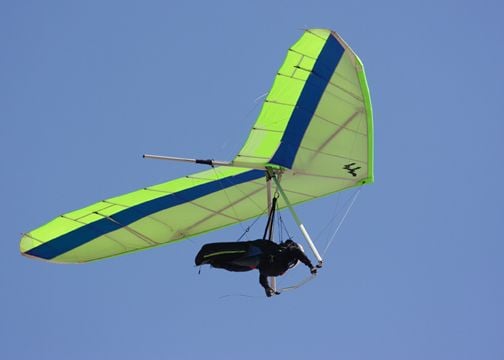 This sort of adventure to do with your boyfriend may not be available in every city just yet. But if it's in yours, you best suit up for some outrageously awesome acrobatics ASAP! Soar, laugh and take plenty of timeless snapshots of this wild activity together.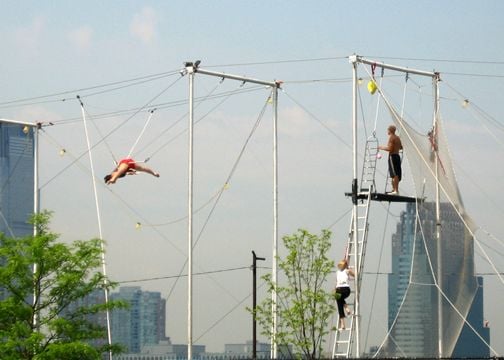 47. Lantern Festivals
With warm, serene glows filling a beautiful night sky, attending this event is one of the most romantic date ideas around. Granted, you have to find one happening in your area, but even a wait to do so is worth it for this breathtaking experience. Many also offer music, s'mores and campfires at the event, all of which add to the magic of this event.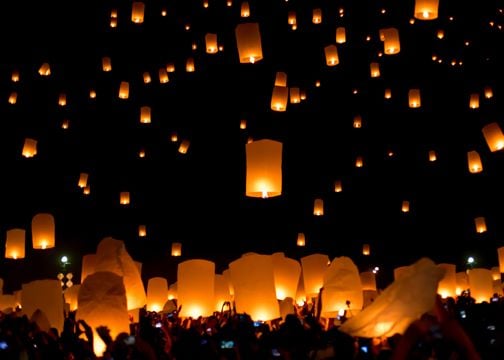 48. Get Tattoos!
This doozey has 'brave' written all over it. Just remember, it's your body, so do the forever-inking for you. If that means matching tats or your S.O.'s name, you're the best person to make that call. And keep in mind this is also a great adventure to do with friends—they make great hand-holders when a boyfriend can't be.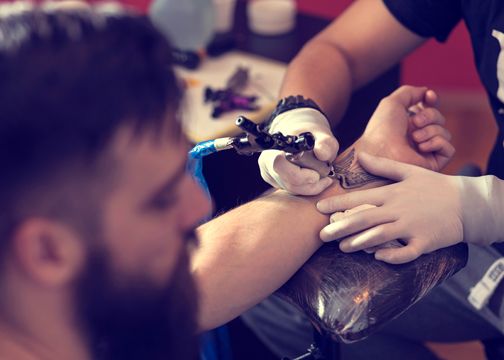 Sometimes you just want to stay home. Enjoy an unforgettable day with your boyfriend without having the leave the comfort of home!
49. Try to Become a TikTok Sensation
Your hidden talents won't be so secret anymore (*ahem, please keep it appropriate*). Use the unstoppable and often viral power of the world wide web to reveal them to the masses. You two just might be the next big thing! Songs, dancing, or any other tricks that may be up your sleeves are all welcome.
50. DIY Ice Cream Sundae Bar
Spend an evening with a cute date night idea that satisfies a sweet tooth. A pint or two of vanilla ice cream, an endless supply of tasty toppings, and as much whipped cream as you both can handle should do the trick.
51. Conquer a Giant Puzzle 
Put your partnering brains together and go where many humans no longer dare to go—to the full completion of a 1,000+ piece puzzle! Sure, it's a bit nerdy, but adding wine to the hours of inquisitive entertainment sure makes for fun stuff to do as a couple.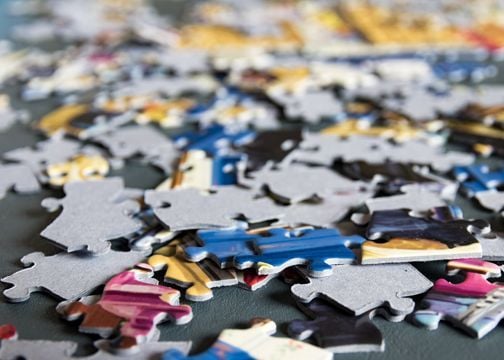 52. Cook Fancier-Than-Usual Eats
Most days, it's easy to go for cereal, microwaveable grub, or forking over the cash to dine out. Why not switch things up for fine dining at home. Use romantic evening ideas like candles, background music, and a gourmet menu. Sip wine as you slice and dice, preparing it together then devouring it in style. Make the indoor adventure extra-memorable by dressing up, too!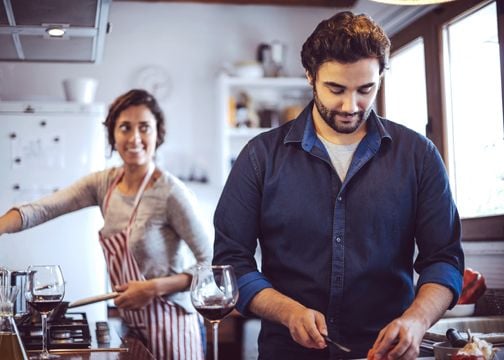 53. Dinner and a Movie at Home
This romantic date night often goes overlooked. But honestly, how often do we relax at home with our S.O., without doing anything else? No phones, background TV, chores, etc. Take advantage of quality down-time and each other's good company. Sip wine, cook dinner, then cuddle on the couch.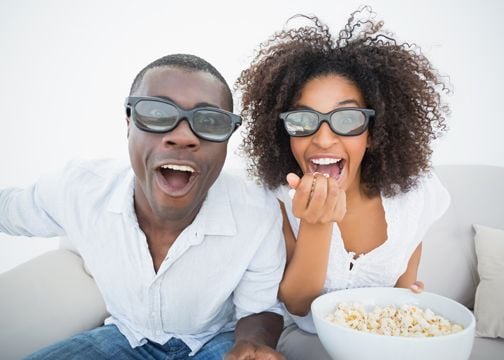 54. Private Wine and Cheese Soiree
In terms of fun things to do at home with your special guy, this one is tops! Not only because it's cute as can be, but also because you can customize it to be as thrifty or extravagant as your taste buds wish. Put a picnic blanket on the floor. Add a bottle or two of vino, a plate of favorite cheeses, and some background tunes.
55. Brunch in Bed
One of the cutest things to do with your main squeeze is to combine pillow talk with delicious eats and bubbly treats! Regardless of who creates the tasty spread—just make sure bacon and mimosas are somehow involved… and your day will be off to the best start ever.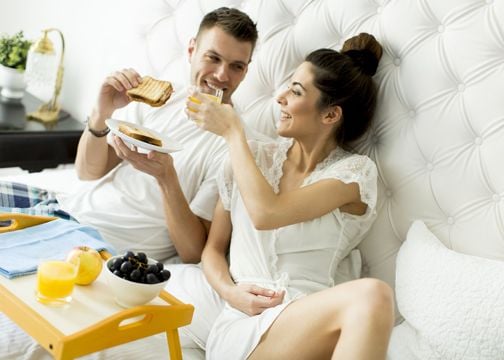 56. Bake a Cake
Not sure what it is, but any type of food prep is that much more brilliant with wine. And this yummy thing to do on the weekend with your boyfriend is no exception. So pop a bottle open, then get baking! It's safe bet that the fermented juices you enjoy will also help with the decorating part. And then be sure to eat your cake too, of course.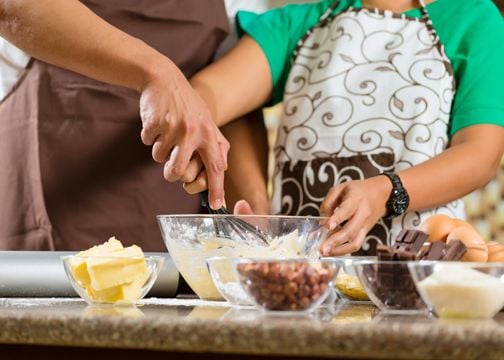 57. Impromptu BBQ
This is a fun thing to do on the weekend with friends or just the two of you. No prior planning is necessary. Just an afternoon or evening where you realize you have nothing to do. Head to the store to grab some meat, cold ones, sides, and tiki torches. Then fire up that grill and feast!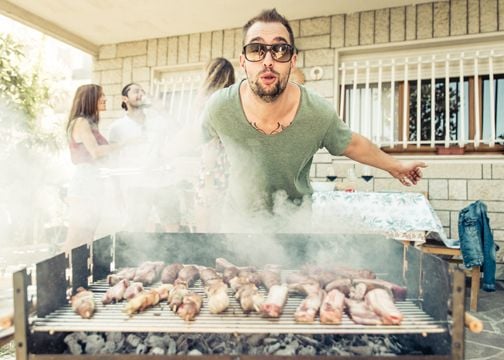 58. Fondue for Two
This date night idea is a wonderful alternative to the usual "going out to eat" regime. Assuming you both are fans of cheese and chocolate, that is. And with all the warm, melted goodness it entails, it's perfect for enjoying on a cool evening.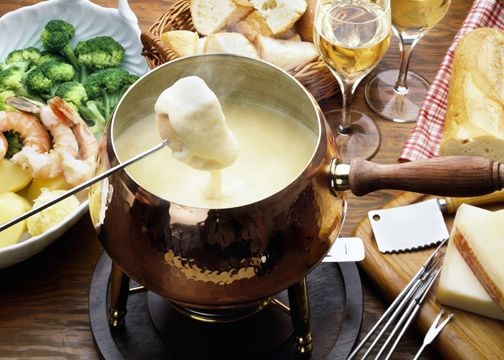 59. DIY Driveway Oil Change
Get your hands dirty and save some cash! If it's time to show your car some routine TLC, this is a unique way to solve the "what to do with your boyfriend on a date" dilemma. Ditch dinner and movie for oil and grease. And learn a pretty helpful how-to skill, too!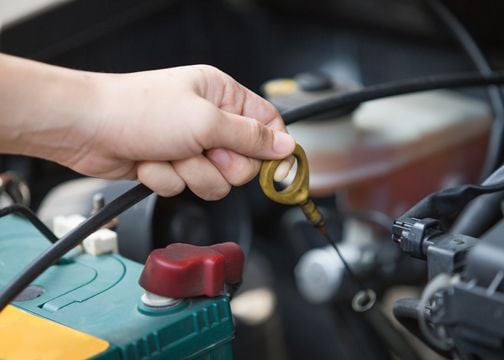 Create unforgettable memories with your boyfriend (without paying an arm and a leg!) with these budget-friendly adventures.
60. Pizza in the Park
Basically, this weekend date idea with your boyfriend is two "P"s in a pod. Imagine spreading a blanket out on plush grass, surrounded by warm sunshine and a slight breeze. Pop open bottle of wine and a box of fresh pizza pie. And you have the ultimate afternoon without even trying!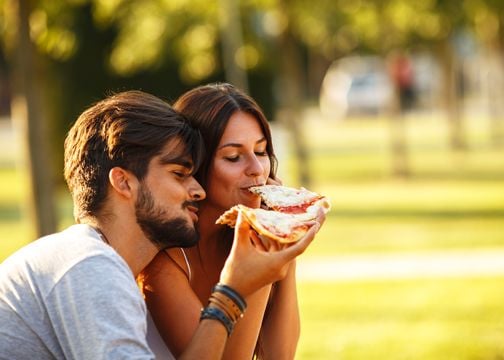 61. Board Games and Wine
Nothings says "fun things to do with your boyfriend" quite like a little bit of friendly board game competition. Bust out a glorious combo of old favorites from years past, plus some new gems. Pour a glass of wine for you and your competition. Raise the stakes with some bets. And then it's game(s) on!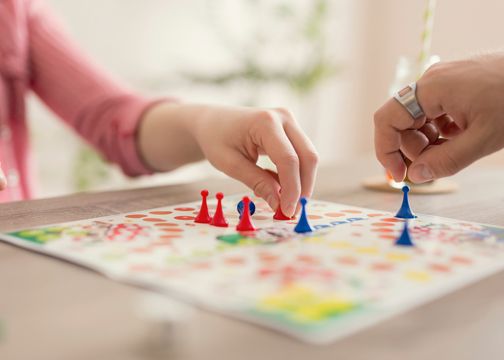 62. Re-Decorate Thrifty Home Décor
Searching for things to do on the weekend with your boyfriend, if it's soggy or chilly? Pick out some thrift shop home goods that could use some TLC. Then give them a makeover. A fresh coat of paint. A new color. Or a bit of creative re-purposing. All guilt-free purchases that are easy on the wallet and bring hours of entertainment.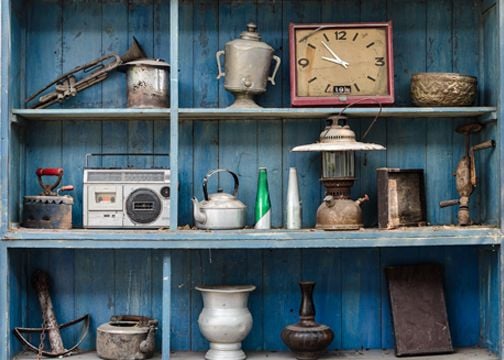 63. Pay It Forward
Be a part of something bigger than yourselves! Engage in a volunteer opportunity to contribute to your community. Believe it or not, this is one of those romantic date ideas that will make you even more mushy for your main squeeze.
64. Play in the Park
This is a genuine winner when it comes to things to do on the weekend with your boyfriend. And is not to be confused with the Shakespearean variety of the word (although that works, too, if it's available). Lounge on the grass, bump a volleyball, toss a Frisbee… Just enjoy some fun in the sun.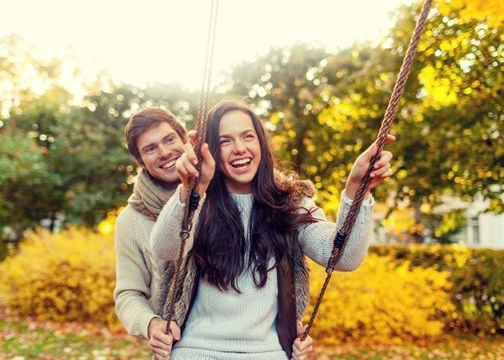 65. Free(ish)Live Music Venue
You don't have to go to an extravagant concert to enjoy some quality jams together. If you're on the hunt for fun stuff to do with your boyfriend this weekend, scope out some smaller gigs at local venues. Chances are, you'll be impressed by your neighbors' talents. And won't break the bank as you support local artists.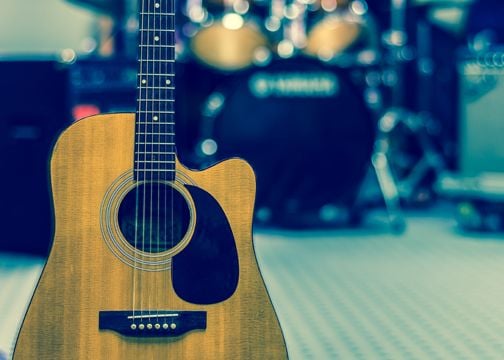 66. Taste a New Ice Cream Shop
Let your taste buds delight in frozen treats from a hot spot you haven't yet tried! It's impossible to be sad eating ice cream, so get ready to enjoy quality time together that will melt both of your hearts.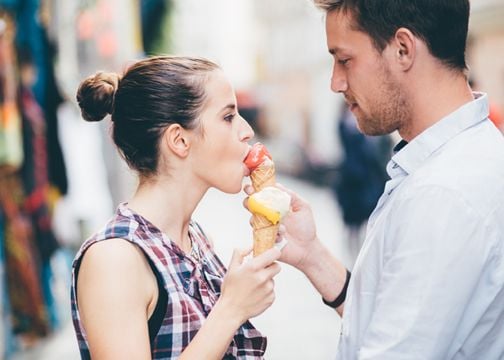 67. Video Chat
This is a perfectly romantic thing to do with your boyfriend this weekend, assuming you two are any number of miles apart. Make some time to see each other's sweet faces thanks to modern technology. A little connecting when you aren't together can go a long way.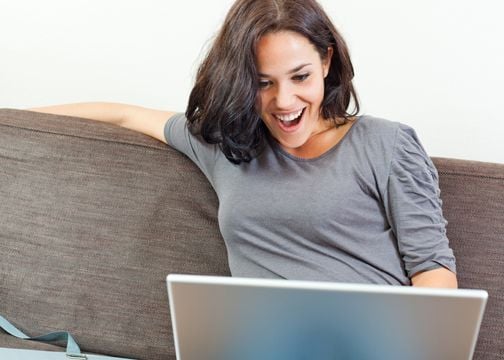 68. Attend a Facebook Event
Find out what hot happenings are taking place near your neck o' the woods. Especially if you're looking for last-minute things to do on the weekend with your boyfriend, Facebook is a great place to start. You'll come across a range of events—from free to ticketed, casual to classy, themed to therapeutic, and tons of options in-between.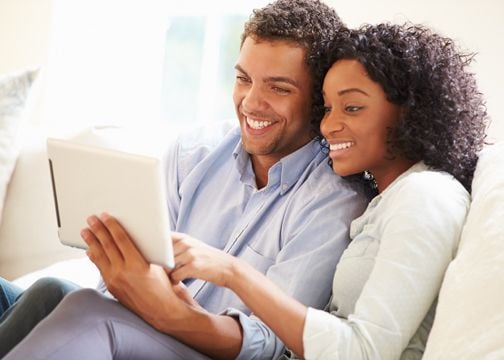 69. Watch a Classic Film Neither of You Have Seen
This likely needs no further explanation. And you'll get extra "Power Couple" bonus points if you physically rent it as a DVD from somewhere, instead of simply buying a download. (Eek, are DVDs really that 'vintage' already?!)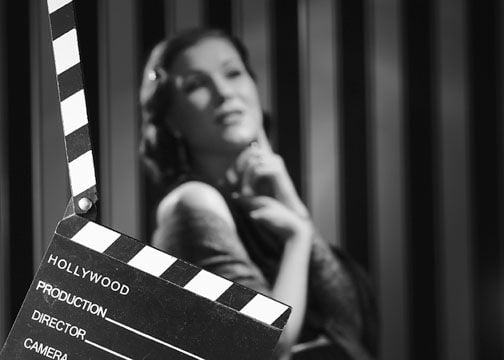 70. Too-Colorful Twister
Play a classic game of Twister…with a colorful twist! Add a few splashes of finger paint to corresponding Twister dots. Don some old clothes, then you know what to do. Spin, stretch, repeat!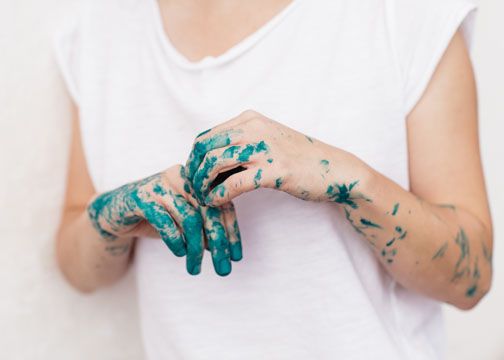 71. Donate Some BRAND NEW Items to Charity
Those who are less well off than others are people, too. Who desire and deserve to live with a certain amount of dignity—even if it's not always the most viable option for them. So lend humanity a hand. Buy a few new clothing items and take them straight to a donation center. Who knows, it could help someone who desperately needs interview attire to land that job and turn their circumstances around.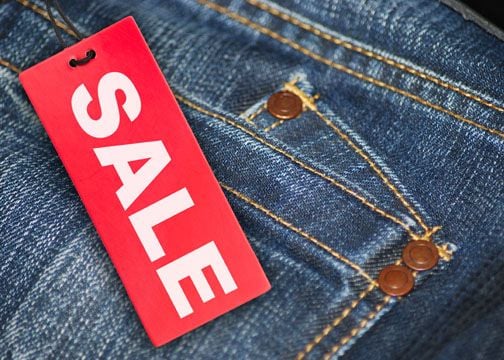 72. Plan a "Good" Event to Do
On the note of helping others, as well as Christmas coming, why not use an hour or two to brainstorm a charitable activity you both can spearhead? Plan a toy, canned food, hygiene or clothing drive. And woah—selfless things to do on the weekend with your boyfriend like this will make him look extra-hot, from the inside out.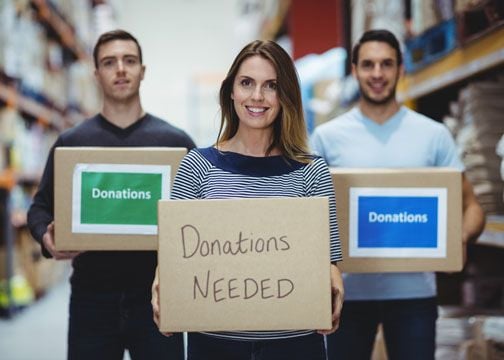 73. Learn a Funny Human Trick
One of the best things about being in a couple is that you know each other's 'freak flags' and can help to proudly fly them. Ahh, true love. Take that lovin' to the next level by learning a quirky new talent together—juggling, tongue-tied cherry stems, licking elbows, you get the idea.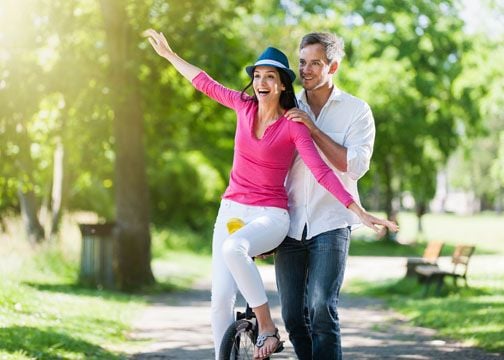 74. Plan a Garden
From staking out space to make it, to planning what to grow, or even planting bulbs, this is a wonderful activity to do with your S.O. In addition, it will give you something to look forward to for spring and summer. And, it's an especially nice project if you prefer more productive types of date ideas.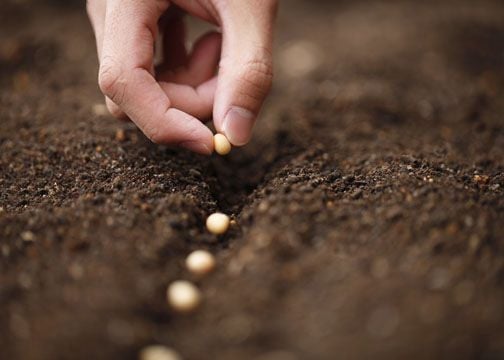 75. Random Discount-Site Outing
Nothing can help you figure out last-minute things to do on the weekend with your boyfriend better than scrolling through online activity deals! Head over to your favorite app or website, and discover endless possibilities that will keep you entertained and making fun memories.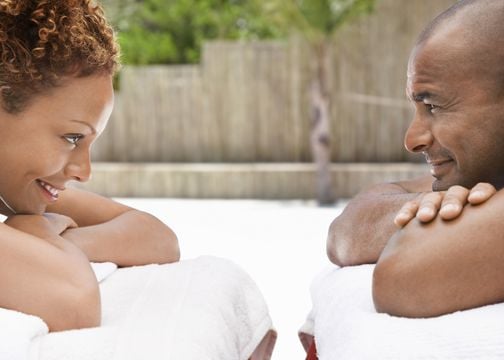 SEASONAL ACTIVITIES FOR YOU AND YOUR BOYFRIEND
From autumn apple picking to summer tubing, these activities are perfect for those seasonal dates!
76. Local Fair or Festival
The romance behind taking a spin through one of these can't be underestimated. Bask in the atmosphere of carnival sights and smells, amusement rides, goofy games, caramel apples and cotton candy, cheesy music, and lots of lovable photo opps!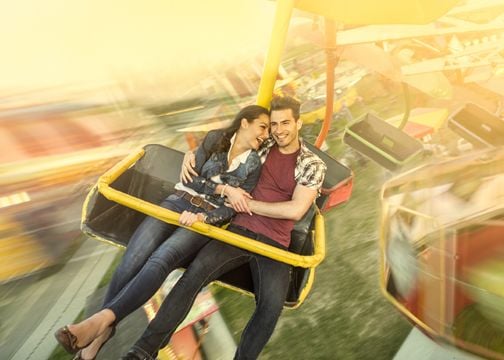 77. Apple Picking
Skip the produce aisle of the grocery store and go for fresh-off-the-tree fruits! Climbing trees and taking a few Instagram-worthy snapshots will only add to the memories this romantic outdoor adventure will bring. (Not to mention the chance to bust out your plaid shirt and boots at long last!)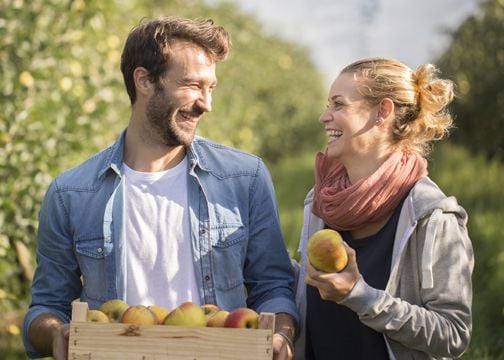 78. Football Tailgating
Fall means football, whether you want it to or not. If he likes the sport and you like the spirit, or vice versa, live the best of both worlds together. Don your most festive threads and team colors, and crack open some cold ones in the parking lot for a fun afternoon date idea with your boyfriend.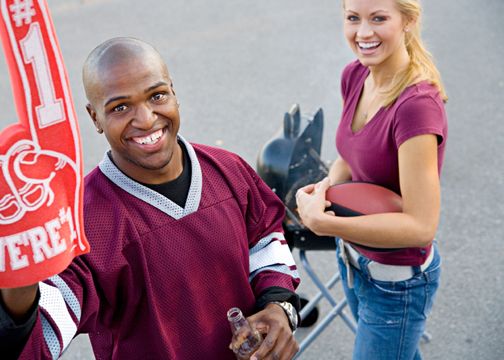 79. Advanced Christmas Gift Shopping
Believe it or not, the time for decking the halls is nearly upon us! So spare yourselves the November-December crowds at the malls. Start shopping and stashing away now. Then you'll have more time to enjoy fun, festive activities and holiday date ideas together later.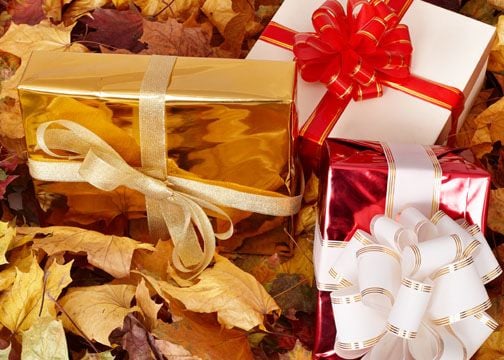 80. Plan A Couple-Themed Halloween Costume
The sooner you do this, the better. Because one, the Halloween stores won't be overly crowded or picked over. And two, you can take your time carefully putting together any details that really tie your look together to wow the masses.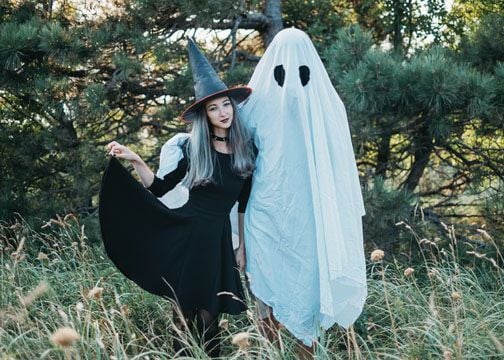 81. Lazy River Tubing
This gem is one of the most fun things to do with a boyfriend in summer (or even into early fall, if you're extra-lucky). Stock up on some preferred beverages and snag a comfy flotation device. Then sit back, relax, and enjoy a leisurely drift down a relaxing river together.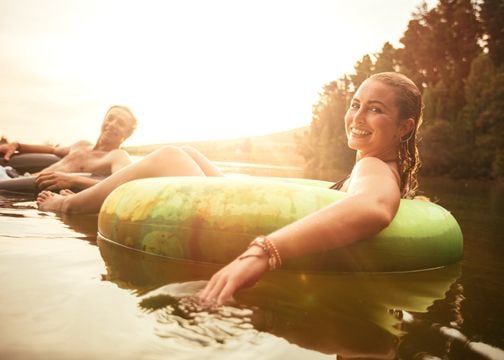 This bucket list item is on here because, quite simply… why not?? Venture over to a vineyard and learn to love your vino even more! Get a behind-the-scenes look at how grapes go from the branch, to the bottle, and in to your belly. And let your feet assist in smashing that fruit into finely fermented goodness worthy of a glass.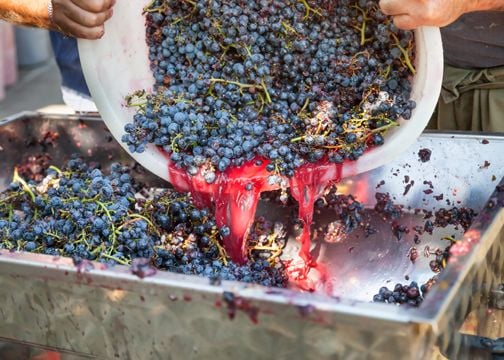 After reading these 82 ideas, we hope you and your boyfriend feel inspired to get out (or stay in) and try something new. If you're still not sure of your agenda, don't miss out on even more one-of-a-kind activities!