SpaFinder Wellness Gift Certificate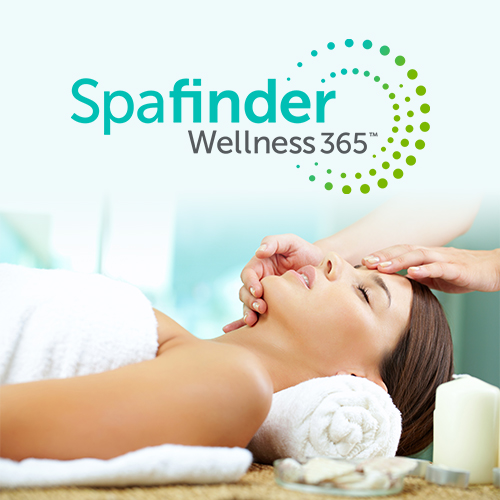 Experience the gift of relaxation with a SpaFinder gift certificate, the most popular spa and wellness gift in North America!
Redeem at over 20,000 spa and wellness locations worldwide

Relax with a massage, treat yourself to a facial or energize your body and soul with a yoga class
Experience the joys of relaxation and indulgence!
Over 20,000 locations worldwide
Full Description
SpaFinder is the world's greatest resource for treating your body well and feeling good year round. With over 20,000 spa & wellness locations worldwide, you are sure to find a rejuvenating experience at a location near you!
Whether you are looking to relax with a hot stone massage, pamper yourself with a manicure & pedicure, or invigorate your body and soul with a yoga or Pilates class - the SpaFinder Wellness certificate is your ticket to a healthier mind, body and spirit.
Essential Information
This SpaFinder gift certificate can be redeemed for goods and services at participating SpaFinder partners. Total value of this SpaFinder certificate must be redeemed at a single facility.
SpaFinder Wellness 365 and Virgin Experience Gifts make no warranty regarding any goods or services you receive in connection with use of this gift certificate and assume no responsibility for any injury or damage arising from use of certificate and/or the performance of any third party provider.
Booking Notes
Varies depending upon wellness facility and wellness treatment selected.
Cancellation Policy
Prior to redeeming your Virgin Experience Gifts certificate for your SpaFinder Wellness certificate, Virgin Experience Gifts's standard return and exchange policy shall apply. This includes the ability to exchange this gift for any other gift or experience offered by Virgin Experience Gifts. However, once you have redeemed your Virgin Experience Gifts certificate and been issued a SpaFinder certificate number, you will no longer be able to exchange your SpaFinder certificate for another Virgin Experience Gifts experience, and no refunds will be given.
Experience ID
VOU-NAT-0002
Where can I use this SpaFinder Wellness gift certificate?
You can redeem your SpaFinder Wellness Gift Certificate at over 20,000 spa & wellness locations worldwide, including over 16,000 locations in the U.S. To find available locations near you, please use our "Find Spas Near You" tool.

Why would I purchase a SpaFinder Wellness gift certificate through Cloud 9 Living?
One of the many great things about gifts from Virgin Experience Gifts is the exchangeability we offer among our gifts. With over 1,800 experience gifts nationwide, we truly have something for everyone. So, if your gift recipient decides he or she would rather Race a Ferrari, or enjoy a scenic sunset sail - they can do just that! No risk, no worries. That's the Virgin Experience Gifts way!
What happens after I order a SpaFinder Wellness gift certificate?
After you place an order, you will receive an email certificate containing your Virgin Experience Gifts certificate for this product. Prior to redemption, all Virgin Experience Gifts certificates are fully exchangeable, so if your recipient decides they would rather go racecar driving than get a massage, they can do just that!
Assuming relaxation is what they're looking for, they'll simply redeem their Virgin Experience Gifts certificate and be issued a SpaFinder certificate code which they can apply towards their choice of spa, yoga, massage or other wellness service.
Can SpaFinder Wellness gift certificates be used for gratuities?
Please check with the individual location at the time you make a reservation, as this is a decision that is made by each individual location at its own discretion.
Do SpaFinder Wellness gift certificates have expiration dates?
No, SpaFinder Wellness gift certificates do not have expiration dates and can be used at your convenience.