Remember when you were a kid? There was nothing more exciting than waking up on your birthday. Whether you celebrated with a giant piece of chocolate cake or partied it up with friends, birthdays gave us something to look forward to. 
Nowadays, planning the perfect day can be tough. The magic we used to feel isn't as strong and deciding what to do can become a chore. However, it's important to set aside some time to celebrate because let's face it, YOU ARE AWESOME, and you deserve to be celebrated! 
No matter what you choose to do, we hope your next trip around the sun is as special as you are! If you're not sure where to start, these 40 incredible activities are sure to give you some inspiration. From treating yourself to a spa day to ziplining through the trees, find your next spectacular birthday idea here! 
This year, cross something off your bucket list. After all, you only live once!
Imagine slipping inside a sleek, bright red Ferrari. Feel the engine come to life under your fingertips and speed around a racetrack in record time. Sound like the perfect day? Bring in your new year with a thrilling driving experience. Choose from your favorite exotics such as Porsche, Lamborghini, and Corvettes or get behind the wheel of a NASCAR stock car! 
Make this year one to remember and float across the sky in a giant hot air balloon! You'll feel a wave of excitement as you climb inside the balloon's basket and lift off the ground. Soar over breathtaking landscapes and don't forget to snap a few photos in the balloon! 
3. GO BUNGEE JUMPING
Wave goodbye to last year's you as you leap into the air. Freefall towards the ground before being caught by a heavy duty bungee cord. Now that's a birthday you won't soon forget!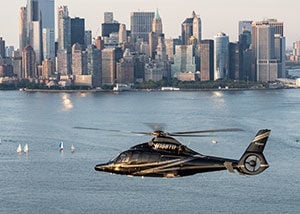 Take your special day to new heights with a scenic helicopter ride! You'll experience the unique sensation of vertical flight as you maneuver effortlessly through the air. Plus, you'll get a bird's eye view of the surrounding landscapes! 
There's nothing quite like packing your bags and treating yourself to an unforgettable getaway! From extravagant resort stays to relaxed camping adventures, find your next epic mini vacation here. 
6. RENT OUT A PARTY YACHT
Grab some champagne, your favorite bathing suit, and take to the water in a luxurious party yacht. You'll feel like a celebrity as you sail into the sunset aboard your extravagant watercraft! 
Have you ever dreamed of flying a plane? Cross it off your bucket list with these incredible introductory flight lessons! Alongside a professional instructor, you'll experience the magic of flight while learning how to soar through the air.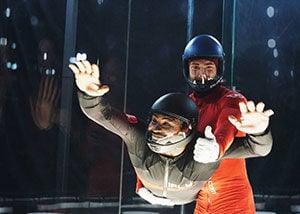 Discover the thrill of skydiving without the plane and heavy gear! During these indoor skydiving adventures, you'll feel a wave of excitement as you step inside a high-powered wind tunnel. Before you know it, you'll be floating, free-falling, and flying! 
This birthday, satisfy your inner thrill seeker with an exciting zipline package! Step up to the platform and feel your heart begin to race. Then, take a leap of faith and discover the thrill of zipping above the trees. 
10. CLIMB A MOUNTAIN
Complete an epic hiking trail or hire a guide to take you to the top of a mountain. As you stand on the summit, you'll feel an overwhelming sense of accomplishment and wonder. The perfect way to ring in your new year! 
Get out of the house and party it up with these entertaining birthday activities. 
11. SING KARAOKE
Even if you can't sing to save your life, karaoke is a wildly fun birthday activity to do with your friends. Sing your favorite song solo or grab your BFF and perform the best duet that the world has ever heard!
Put your thinking caps on as you and your friends enter a mysterious escape room. Working as a team, try to escape by finding clues and solving riddles. Did we mention that there's a time limit? Work quickly…before it's too late! 
13. EXPLORE THE CITY IN A LIMO
You'll feel like a million bucks as you cruise the city streets in a decked-out limo! Wear your favorite outfit, create a bumping playlist, and celebrate your birthday in style. 
Channel your inner Tiger Woods and play the best game of putt putt golf ever! Or, whack the ball as hard as you can with these Drive Shack packages. 
15. DANCE THE NIGHT AWAY
Celebrate you and bust a move! Whether you have two left feet or can tango in your sleep, an evening of dancing is just what you need! 
16. HOST AN EPIC POOL PARTY
Who doesn't love a good pool party? Fire up the grill, set up some lounge chairs, and fill a cooler with bevs. Oh, and giant pool floaties are a MUST!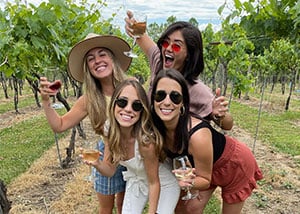 From delicious and sweet Moscato to complex Pinot Noir, America is home to some of the world's tastiest wines. Gather your crew and taste some for yourselves with these amazing wine tour packages! 
18. HAVE A SPLATTER PAINT WAR
You've heard about paint and sips, but what about splatter paint studios? Let loose on your birthday as you throw, splash, and splatter paint onto a canvas…and each other! You'll even get to take home your one-of-a-kind masterpiece! 
19. HAVE FUN ON A PARTY BIKE
Imagine bar hopping, but instead of walking in between stops, you pedal! Party bikes are incredibly fun, multi-passenger vehicles that are powered by its riders. Simply sit, enjoy a drink, and pedal across the city! 
Create your own list of things to find around town, or download one of these interactive scavenger hunts to your phone! 
21. SAY CHEESE WITH A BIRTHDAY PHOTOSHOOT
Pick out a few outfits and head into the city for an unforgettable photoshoot! Strike a pose in front of your favorite mural or pop open a bottle of champagne on top of a building. You can either hire a professional or bring along your besties for some stunning cell phone pics! 
TREAT YOURSELF BIRTHDAY IDEAS
Because you deserve to spoil yourself on your birthday! 
22. EAT A GIANT SLICE OF CAKE
It's your birthday. Now go eat the biggest slice of cake that you can find! Our recommendation? Vanilla with rainbow sprinkles!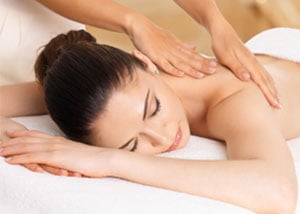 Prepare yourself for the upcoming year with a rejuvenating spa treatment. From deep tissue massages and sauna sessions to float therapy packages, these spa experiences will have you wishing that every day was your birthday! 
24. TAKE THE DAY OFF
No one should have to work on their birthday. So, treat yourself to a day off and spend it however you'd like! Go out for a nice breakfast, take your dog for a walk, or stay inside and read a good book. 
Get ready for an extravagant outing as you climb aboard a luxurious watercraft. Escape the city, enjoy delicious food, and soak up breathtaking views with a scenic dining cruise! 
26. INDULGE IN FREE GOODIES
If you've never taken advantage of birthday freebies, you are missing out! From free coffee and pancakes to complimentary burgers and cookies, tons of restaurants across America want to help you celebrate. Get out there and see how many birthday perks you can find! 
Plug in that blender and make yourself the world's best pina colada. If you're feeling a bit more adventurous, consider booking this At Home Virtual Cocktail Masterclass! You'll learn how to shake, stir, and create three different cocktails of your choice. 
28. CATCH SOME ZZZS
Turn off that morning alarm and sleep in till noon. Or, cuddle up on the sofa with your favorite blanket and take a well-deserved afternoon nap. 
Experience the magic of nature without having to sleep on the hard ground. After your luxurious retreat, you'll return to society feeling relaxed, recharged, and ready to take on the world!
30. THROW A THEMED PARTY
Purchase some props, prep some delicious snacks, and invite your friends and family over for a themed party! Not sure on a theme? Consider a murder mystery, casino night, or an 80s throwback. Costumes are highly encouraged!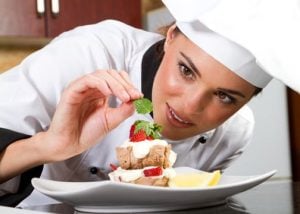 Enjoy all the perks of a 5-star restaurant without leaving home! Using only the finest ingredients, these personal chefs will prepare, cook, and serve you the most delicious birthday dinner ever! 
SOLO BIRTHDAY IDEAS
For the birthday boys and girls who would rather celebrate by themselves. 
32. CREATE A VISION BOARD
Instead of jotting your annual goals in a journal, get a little crafty and make a vision board! Start with writing down a goal on a large piece of paper. Using magazines or even newspapers, cut out images and quotes that fit what you'd like to achieve. Paste these around your goal to create a beautiful and inspirational collage!
Birthdays are a great time to sit down and think about all of the things you'd like to accomplish this year. Explore something new and learn lifelong skills with one of our hands-on classes! 
34. BINGE YOUR FAVORITE SHOW
Make yourself a cup of coffee and spend the day vegged out on the couch. Go the nostalgic route and watch your favorite show or be adventurous and binge something entirely new! 
Become a better, healthier, and happier you with an annual subscription to Whitecalm Wellness! With over 100 sessions live streamed monthly, you'll have unlimited access to fitness videos, yoga classes, nutrition talks, and so much more. Not sure you're ready for a year's subscription? Try it out for just four months by clicking here.
36. MEDITATE OUTSIDE
While being cooped up inside all day may seem like a good idea, get outside and soak up some sunshine. Your body will thank you! Go for a short walk or grab your yoga mat and find a quiet place to sit, meditate, and clear your mind. 
37. ORDER AN AT-HOME CRAFT KIT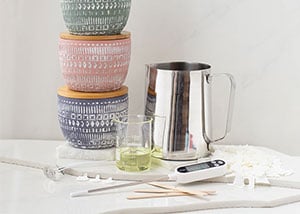 Channel your inner artist and get creative with an at-home craft bundle! For the sculptors, we highly recommend this incredible pottery bundle. Everything you need to create the perfect vase, plant pot, or sculpture will get shipped to your doorstep. If sculpting isn't your thing, don't miss this amazing candle pouring workshop! 
38. VOLUNTEER YOUR TIME
Instead of buying yourself a gift, find a cause that speaks to you and volunteer in any way that you can. Volunteer in person at a soup kitchen, animal shelter, or create care packages for the needy at home. 
39. GO FOR A DRIVE
Pack yourself a delicious picnic lunch (and maybe a tasty birthday treat?) and hit the road. Got a favorite spot? Drive there. Or, visit someplace new. Perhaps you'll explore a lake, a forest, or a part of the city that you've never seen.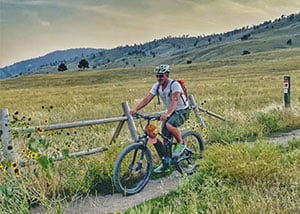 Or a kayak. Or a stand-up paddleboard. Or even a sleek Polaris Slingshot! No matter which option you choose, explore your city in a whole new way with one of our exhilarating rental packages! 
From all of us to you, HAPPY BIRTHDAY! We hope you feel inspired by this list of 40 incredible birthday activities. You can discover even more amazing birthday experiences here. No matter where the day takes you, we hope your new year is filled with happiness, love, and unforgettable memories!