Wondering if a drag racing experience should be in your future? (Don't worry — this refers to the entirely legal kind.) Here are some further questions to ask yourself, if you're feeling the itch to put the pedal to the metal.

Am I feeling revved-up by the annual action of the Indy 500?
Do I live for the sound of horsepower that fills a stadium during racing season?
Does the stop-'n'-go pace of my daily commute have me dreaming of burnin' rubber on a wide-open road?

If you answered "yes" to at least one of those, then it's a safe bet you should indulge in the fast cars and freedom of a drag racing experience ASAP! And if you answered "yes" to all three questions, then there's no doubt it's high time for you to hit up a track with a drag racing strip and don some driving gear!
The Virgin Experience Gifts crew recently felt the same hankering to satisfy a need for speed. So you can only imagine our excitement when we heard that our long-time drag racing school partner, Pure Speed Racing, was planning a pit stop at Bandimere Speedway for dragster driving in nearby Morrison, Colorado.
While we couldn't wait to hop behind the wheel of these horsepower-packed cars to let loose on the drag racing strip, we admittedly had some jitters leading up to the big day. Namely because this was a first for all of us! If that feeling is all too familiar to you — rest easy! We went, we did, we conquered top speeds. And now we want to give you the insider's scoop on driving a dragster!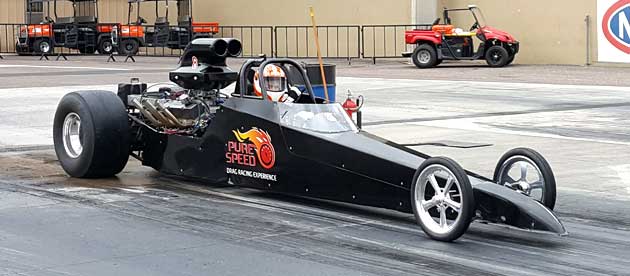 What to Expect of a Drag Racing Experience

A day at the track may vary ever so slightly across drag racing schools. But here's how ours went with the folks at Pure Speed Racing. Upon arrival, we checked-in at the registration trailer and completed waivers. We were also given the option to purchase in-car video USB drive lanyards. Then it was time for the drag racing class, led by Mr. Doug Foley himself! This instructional orientation lasted about an hour, covering elements of driving gear, safety, procedures, communication, hand signals, and car mechanics.
To be totally transparent, the vast amount of information was a wee bit intimidating for some of us. But Doug was extremely efficient in his delivery and repetition of the driving tasks at hand. So much so that by the time we hopped into the crew van for a (very slow-motion) demo-run down the drag racing strip, the whole process was crystal-clear — from prepping the car, to gunnin' it at top speeds, and then returning to the launch area.
Now we just needed to get our nerves under control… But we were there for the adrenaline rushes, and that's exactly what we got! After our demo-run, Doug split us up into groups for ride alongs and drives (as we each were enjoying both of these thrills at the track). The Pure Speed Racing staff couldn't have been more helpful and encouraging as we donned driving suits and buckled in to our respective vehicles.
Doing three runs (building up to a 1/4-mile stretch) was an ideal way to go about our drag racing experience, as well as adding the ride along option to the mix. As Doug had told us during our orientation, the first two runs (330 feet and 1/8-mile) are intended to help participants get to know their car and get comfortable with putting the driving instructions into action. Which makes lots of sense, considering all that happens before going full throttle to unleash the car on the drag racing strip, no matter the distance.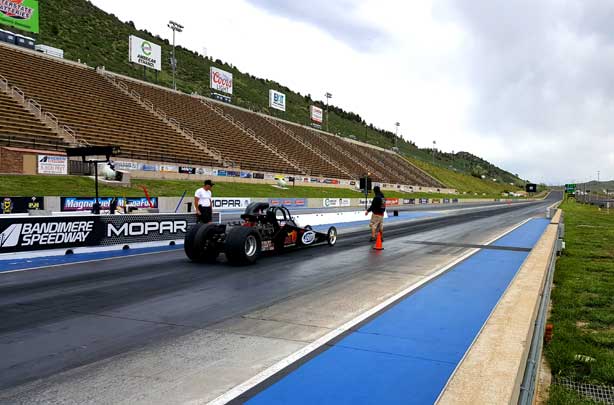 Here's how drag racing works for each individual run a participant takes. Unlike professional dragster racing competitions and those Hollywood movies that sport side-by-side action, the Pure Speed Racing crew sends just one participant down the strip at a time. This ensures that each participant gets optimal track time, while also capitalizing on safety. Starting with all of our cars lined up in the launch area, a staff member motions one of us forward. Upon reaching that check-point, all of the switches and control panels of the car are double-checked and high-fives given. Then the car is waved over to the start of the drag racing strip.
This is where one of the most exciting elements of the drag racing experience happened: the burnout! The first area of the track is hosed down with water before each participant rolls up. Once in place, another crew member triple-checks all of the car's controls, gives the signal to flip down the ol' visor on the helmet, and initiates another high five. Just up ahead, then, Doug Foley works some snazzy arm maneuvers, signaling that the left foot should come entirely off the brake and the right foot should floor the gas for three seconds — both at the exact same time. Let it be known, doing this creates some sounds that will make the heart race with anticipation as the wheels spin! And (nerd-alert) scientifically, it's a pretty cool three seconds, too, because it essentially initiates how drag racing works: as the wheels spin on that water, air is forced out between the rubber and the drag strip, which is laden with a specialized glue. So you can only imagine the resulting heat and friction, which means a need for speed is about to be sat-is-fied!!
But first, we left Doug Foley standing there during those intense three seconds of burnout… so let's get back to him…
Following his fancy arm signals and the three seconds of giving the car burnout gas, the right foot comes off the accelerator and the left gradually eases back onto the brake, while pulling up to Mr. Foley's perch. At the same time, there's some more signaling to help slightly straighten the car a bit to the right or left, so it's in prime position to put the pedal to the metal down the drag racing strip! With Doug's assistance, the front end of the car is aligned with a laser that trips a signal on a nearby light podium, counting down to go-time!
At last, the most mind-blowing moment of the drag racing experience has arrived! The light podium flashes one yellow light on top. Then another just below. Then a third. And in that blink of the third yellow light, the gas is hit, jolting the car to life just as the bottom green light on the podium flashes. And off the car zooms, rocketing down the straightaway at speeds much more magnificent than any commute could offer!
Check out the action below as Virgin Experience Gifts tears up the drag racing strip —
from light podium countdown to hitting rubber-burnin' speeds!

Such was the protocol followed for all three runs. And by the time the third (and longest!) run came around, each of us felt our confidence soaring and were absolutely elated by the speeds we hit. As a whole, our quarter-mile drag times were pretty impressive, with most of us reaching MPHs of the 106-119 variety. A couple coworkers proved their feet really are made of lead, scoring speeds in the mid- to upper-120s on the ¼-mile run! All around, we were each pretty proud of packing as much action as possible into an 11- or 12-second shot! (And believe it or not, pros like Doug Foley hit upwards of 300 MPH in a ¼-mile. #racingdreams)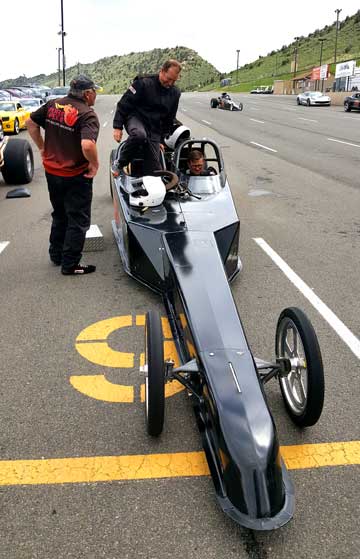 Our drag racing experience wouldn't have been complete without the extreme thrill of a dragster ride along! Because of our large group size, some of us buckled up for this adrenaline rush before doing our drive, others after. The ride along certainly served as a great confidence-builder, as well as a worthwhile way to experience the track protocol before hopping behind the wheel to drive a dragster first-hand. Plus was just downright FUN! Try as we might have, our ¼-mile efforts had nothin' on the Pure Speed Racing drivers, who could rock the run by hitting 135+ MPH in about 9 seconds. Talk about take-your-breath-away!
When all was said and done —the driving suits returned, the dragsters shut down, and our heart rates resumed to a normal pace— we all agreed this was one of the most incredible company outings we'd ever done! Which is a pretty bold statement, coming from a company who prides itself on being the U.S. leader in providing an abundance of adventurous outings and memory-making initiatives.
We bid goodbye to the crew that had so faithfully served us for the last 3.5 hours. They bid us good luck at avoiding speeding tickets on the way home. (True story.) And off we went.
Other Tips We Took Away from Our Race Car Driving Experience:
Be prepared to be strapped in to the car's cockpit super-snug, especially for the ride along!
Long pants and close-toed shoes are required under the driving suits — but consider short-sleeve layers for your top half, as it may get warm in all the heavy gear.
Ear plugs for spectators are a great idea (especially if small children are present) — that starting line of the drag racing strip is LOUD! Sometimes uncomfortably so.
Bring a camera — especially if you have spectators joining to snap some photos and videos.
Racing schools (including those involving dragsters) tour the country, hopping from track to track at different dates throughout the year. Call Virgin Experience Gifts at 866-525-6839 to see what type of race car driving experiences will be near you!
This activity is VERY weather-dependent, for safety reasons. We had to reschedule our original track date. Be prepared to do the same, if Mother Nature acts up!
Relax, rev that engine, hoot 'n' holler with sheer delight, and have tons of fun as you drive a dragster!