Houston Date Night
A Virgin Experience Gifts Collection
Give.
Give the gift of romance with a handpicked selection of our favorite experiences for couples.

Book.
Your recipient selects their dream date and books a time convenient for them.

Enjoy!
Go out, have fun, and create a memory to last a lifetime!

Summary
Let Them Choose Their Perfect Houston Date!
Take the guesswork out of gift-giving and let your friend or loved one choose their perfect date with this Houston Date Night collection!
Our handpicked selection of top-rated experiences for two allows the happy couple to select the experience of their choice and book a date convenient for them.
Whether they choose to discover some new craft brews or learn new skills together on the water - this Date Night gift has something for every type of couple!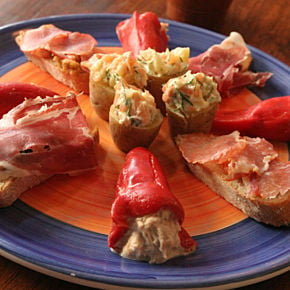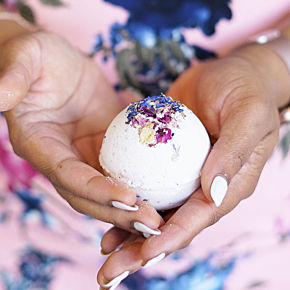 Create Your Own Bath Bomb Workshop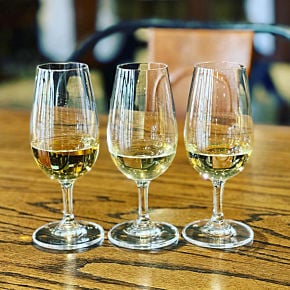 Montrose Neighborhood Food Tour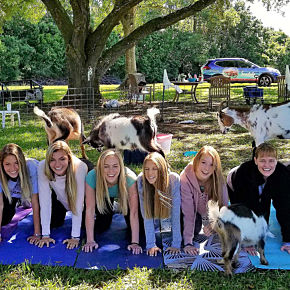 Goat Yoga and Mimosas with a Farm Tour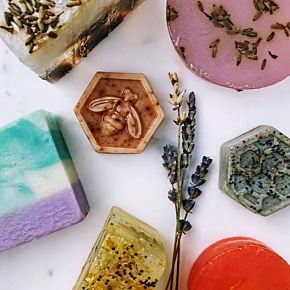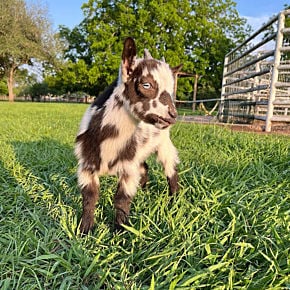 Rose Therapeutic Farm Visit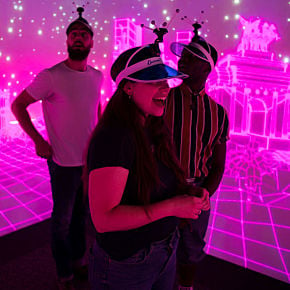 60-Minute Game at Immersive Gamebox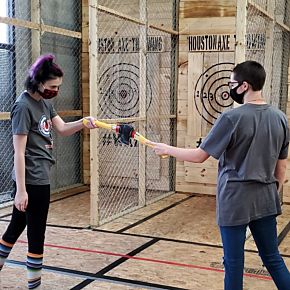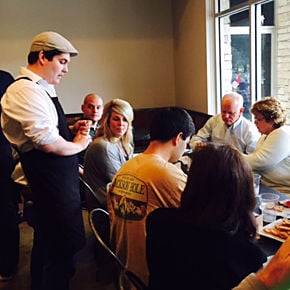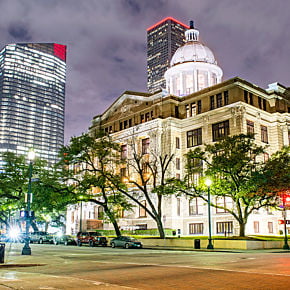 Historic Houston Ghost Tour and Pub Crawl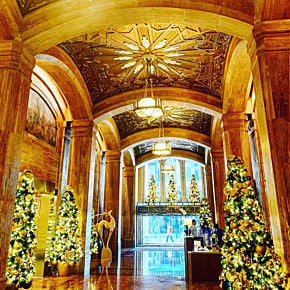 Downtown Tunnel Walking Tour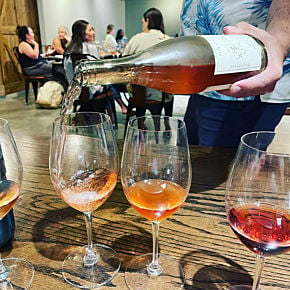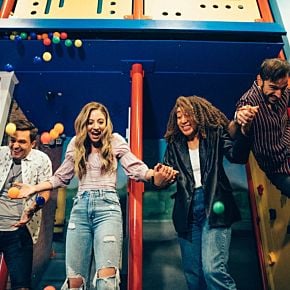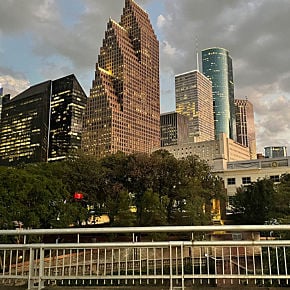 Houston Shuttle Tour in a Sprinter Van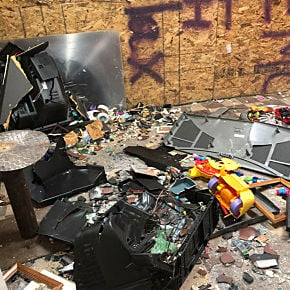 Fifteen Minute Rage Room Experience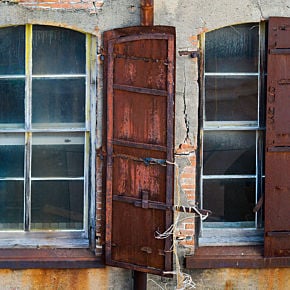 Haunted Galveston Cemetery Tour
Below are 30 reviews from experiences included in this collection:
The Heights Food Tour
Houston Date Night
Dec 02, 2021
Our host, Cynthia, was engaging and knowledgeable. We enjoyed the historical anecdotes about the Heights and the origin of our unique food options. The diversity of tastes was just right with charcuterie, Mexican, Vietnamese, French, and Italian contributions. Our host asked for feedback of the creperie, but not of the others. Most in our group liked the charcuterie best, which was our first tasting. All the following tastes were a little common - ham and cheddar crepe? Why not the beet, goat cheese, pecan, & honey? All in all, it was a very nice way to spend 3 hours walking around a lovely area of Houston. We would try another experience.
Response from Virgin Experience Gifts
Hi there, Karen! What a lovely review, I'm so glad you enjoyed your time out in the Heights. It is certainly a wonderfully historic area! I have passed along your praise to our tour partners - they will be so excited to hear! Our partners are always switching up their food offerings and while this time around may have seemed a bit less adventurous to your taste, I am glad you still found it to be satisfying and enjoyable. I'd be remiss not to mention our other great Houston tours, such as our Downtown or Montrose offerings! We'd love to get you out on another tour soon. Cheers, Jake.
The Heights Food Tour
Houston Date Night
Nov 22, 2021
Our tour guide was very nice but not good at her job. Several times, I asked her questions about the neighborhood which was the focal point of the tour and she couldn't answer or would say ,"Hold that to later and I will say some things about the neighborhood." Apart from her lack of knowledge, the food offerings were not that great. There were 5 stops and 3 were good. Specifically at Revival Market, we got a cup of carrot and celery sticks with nuts. I would not recommend this to anyone and dissuade them from doing this particular tour.
Response from Virgin Experience Gifts
Hello Nikki, Thank you for sharing your feedback with us. I'm so sorry to hear that your experience was less than 5 stars. Although there were a few hiccups, I'm glad to hear that you were able to enjoy 3 out of the 5 stops. We strive to provide a legendary experience for our customers and are disappointed that this did not occur during your time in Houston. I hope there will be another opportunity down the road to get you on another experience that will exceed your expectations. We really value your feedback and appreciate you sharing this information with us. Thanks, Ryan
Downtown Food Tour
Houston Date Night
Jan 28, 2020
The food was excellent and included things I would never try on my own! Our guide was great and included a lot of information about the buildings and areas we walked through that really brought the whole experience together! We loved it and plan to go on another tour soon.
Response from Virgin Experience Gifts
Thanks so much for taking the time to leave such a wonderful review! I am so glad the tour was everything you could wish for and more. Our experience providers are truly the best and it's a delight hearing about your tour. We look forward to getting you guys out on your next tour! Best, Jake.
Downtown Food Tour
Houston Date Night
Nov 20, 2019
The hubbie & I received the FoodTour as a gift from our daughter. As Houston residents it is unlikely we would ever have selected this for ourselves. However, the tour exposed us to the downtown area in a way we have never seen it. We expanded our knowledge of the area, had fantastic food experiences, and enjoyed meeting and chatting with the other tour guests. Christa was an excellent guide, making sure our needs were met, and sharing historical information. Ocasionally it was difficult to hear what she was saying, due to street noise or blaring music (which she requested the restaurant lower the volume), but overall it was an excellent experience!
Response from Virgin Experience Gifts
Hi Rebecca, So glad to hear your enjoyed your gift! Nothing quite like a food tour led by a fun guide to show you new facets of your own hometown! I'll be sure to pass your compliments along to Christa, as I'm sure she'll be excited to hear that she impressed the locals in the group, and that you felt taken care of throughout your experience. Maybe next time the whole family will come along? Cheers to great new memories! Inah
Downtown Food Tour
Houston Date Night
Apr 17, 2019
Lots of fun. Really unique and cool restaurants/bars we went to. our hostess Debra was very knowledgeable and nice. the other 6 people in our group made it special as they were from all over the US and Canada and a lot of fun. I'm sure my wife and I will return on our own to the area.
Response from Virgin Experience Gifts
Hi Ed, That definitely sounds like a great time! I'll be sure to pass your kind words on to Debra, she's the best. I know it can sometimes be intimidating when going into a tour with a group of strangers, but it sounds like they only enhanced the experience! I hope you made some fun new memories in Houston, and let us know when you feel like exploring another city! Cheers, Inah