Miami Gourmet
A Virgin Experience Gifts Collection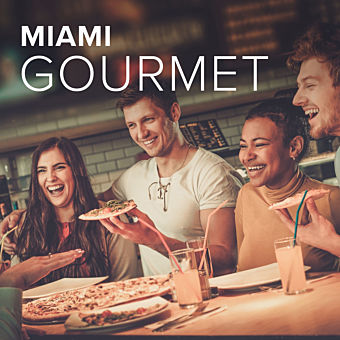 Give.
Give the gift of gourmet with a handpicked selection of our favorite tasty experiences.
Book.
Your recipient selects their palate-pleasing adventure and books a time convenient for them.

Enjoy!
Go out, have fun, and create a memory to last a lifetime!
Summary
Let Them Choose Their Own Culinary Adventure!
Take the guesswork out of gift-giving and let the foodie in your life choose their own palate-pleasing experience with this Miami Gourmet collection!
Our handpicked selection of top-rated food and drink tours allows your recipient to select the gourmet experience of their choice and book a date convenient for them.
Whether they choose to learn how to cook ethnic cuisines or taste their way through Little Havana... this Miami Gourmet gift has something for every taste!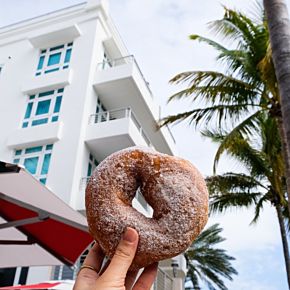 South Beach Miami Food Tour
Little Havana Walking Food Tour
Design District Food Tour
Wynwood District Food Tour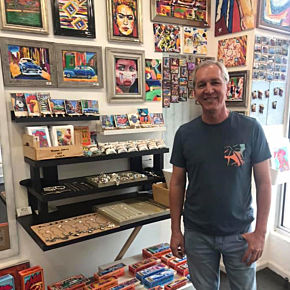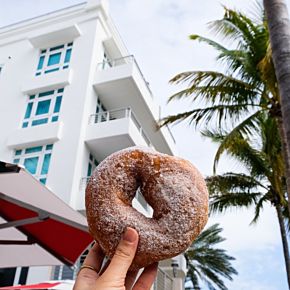 Below are 40 reviews from experiences included in this collection:
Little Havana Food Tour
Miami Gourmet
Dec 06, 2022
Our tour guide, Marco, was very knowledgeable, kind and friendly. The tour was so much fun, very informative and we ended the night very full!!
Response from Virgin Experience Gifts
Hello Mildred, Thank you for sharing your lovely experience with us! I am so delighted to hear that you had a fun tour! I will be sure to pass along your kind words to Marco. Your review is much appreciated. Cheers, Julissa
Wynwood District Food Tour
Miami Gourmet
Jun 12, 2022
Excellent art and food. Jennifer was terrific!!!
Little Havana Food Tour
Miami Gourmet
May 19, 2022
This 2-hour experience was a great way to be introduced to Little Havana. Our tour guide, Dubcy, was personable and knowledgeable. The amount of food and drinks was perfect. I recommend this food tour experience.
Response from Virgin Experience Gifts
Hello Jennifer, Glad to hear you had a great food tour! It sounds like a great way to eat delicious food and learn interesting facts about the area. I'm thrilled to hear you got to be with a personable and knowledgeable guide like Dubcy. Your recommendation for this adventure is greatly appreciated! Thanks, Ryan
South Beach Miami Food Tour
Miami Gourmet
Feb 10, 2022
The tour was fun. The people were nice.
Response from Virgin Experience Gifts
Hi Lorei, Reading about this delightful food tour has me salivating! I am so thrilled to know that you enjoyed the staff and that they were able to provide you with a fun and memorable experience. Cheers to you! Elizabeth
Little Havana Food Tour
Miami Gourmet
Jan 07, 2022
OMG, this was, hands-down, one of the BEST tours I've ever taken. Our guide, Mariela, was incredibly knowledgeable and accommodating to our group! Bring your walking shoes and COME HUNGRY for this amazing tour! We had the opportunity to enjoy Cuban coffee, empanadas, Cuban sandwiches with Mint Mojitos (alcoholic and non-alcoholic options available), churros, chilled (freshly pressed) sugar cane juice, and guava ice cream! AND Mariela went out of her way to make sure that all the dishes we tried were made FRESH. YUM! This tour goes WELL beyond food history. We learned about the rich culture of Little Havana, and how most of the Cuban community of Little Havana were not allowed back to their homes in Cuba due to the Castro regime. So they carved out a section of Miami for themselves. It's a tight-knit, loving community filled with such amazing history! And they work hard to maintain its authenticity, from the beautiful rolled cigar and guayabera (4-pocket) shirt stores to the Cuban coffee and grocery stores. I HIGHLY RECOMMEND taking this tour! Mariela, thank you so much for the wonderful experience. When we come back to Miami, we will certainly take this tour again. It was phenomenal!
Response from Virgin Experience Gifts
Hi Courtney, Reading this review has me wanting to pack my bags and get on a flight to Miami ASAP! The food you were able to sample sounds absolutely delectable! I am such a sucker for anything coffee related, and guava ice cream?! That sounds so terrific and refreshing! Mariela sounds like a superb guide, and I am elated to know that she was able to share the historical and cultural influences of this region with you. I have forwarded this review on to our experience providers so that they are aware of Mariela and this tour's success! Cheers to you! Elizabeth