Finding cute Valentine's Day gift ideas for a boyfriend (that he actually likes) can make one's head spin more than navigating the murky waters of dating itself. And truth be old, your relationship's "status" can also throw a wild (sometimes awkward) card into the V-Day gift-giving game.
Someone who is a month into "casually but exclusively hanging out" with a new-ish guy is wandering store aisles with an entirely different mindset than the person who is wondering, "What should I get my boyfriend for Valentine's Day now that we've been together for over a year?"
Oy vey, Cupid! If only that winged, mythological wonder would aim his arrows straight at perfect Valentine's presents for men instead of our hearts, all of this guesswork could be eliminated. Right?!
But alas, Cupid is clearly too busy gallivanting the globe playing matchmaker. So we've stepped up instead, rounding up the best V-Day gifts for guys! As a bonus, you're bound to find a winner, no matter the "status" of your male attachment. From brand new and keeping it cool… to poster-worthy power-couples for "happily ever after"… and that comfy, cushy phase in-between…
So get just as prepped, poised and ready for action on February 14th as Cupid's arrows! Win your main man's heart over with the 29½ Valentine's Day ideas below.
Valentine's Day Gift Ideas for
"New" Boyfriend
1. Donut Love Note
From the simplest box of donut holes, to a spread of 12 elaborately-frosted baked goods… this awesome V-Day gift for him is perfect if he's a morning person with a sweet tooth. Just buy the variety that makes his mouth water most. Add a love note to the box… start with "I donut know what I'd do without you," then end with your own spin. Yum!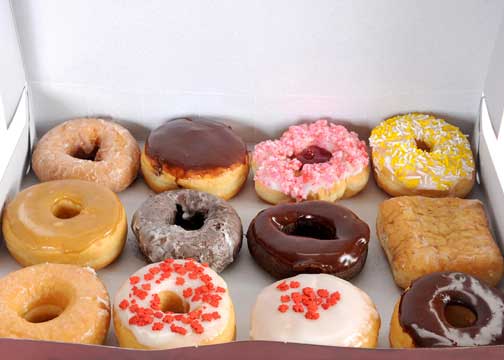 2. Love is Cheesy, Love is Kind
Step one: Find an empty box. Step two: Decorate it as you wish, somehow including: "Sorry I'm cheesy, but I just like you so much." Step 3: Fill with any and all varieties of cheese and cheese-flavored snacks and knick-knacks.
3. For a Love as Great as the Outdoors
Got a nature-lover on your hands? Pile nature-themed treats into a gift box or bag: Gummi Bears, Goldfish Crackers, Gummi Worms, Swedish Fish, chocolate bark, Old Faithful Peanut Cluster Bars, Rock Candy, Clif Bars, Mountain Bars, Pop Rocks (…you get the idea…). Perhaps throw in some trail mix and beef jerky, just for good measure. (And to curb the sugar rush.) Top it off with a camo bandana. And for some humor, toss in a rock that you've written "You Rock!" on. This Valentine's present for a boyfriend who loves nature will be one he adores!
4. "You're Hot" Valentine's Day Gift Idea for Boyfriend
Fill a box or bag with hot 'n' spicy eats and treats… Tabasco or Sriracha hot sauce, Cajun-rubbed peanuts, Hot Tamales candies, chili peppers, spicy salsa, etc. Snacks and other goodies that rock red and orange colors/wrappers are also great accent pieces! Want to add a hint of romance to the mix? Throw in a candle! It quite obviously reinforces the theme, but —better yet— it's also great for some mood-setting later (*wink, wink*). A small mason jar full of matchsticks makes a cool touch, too.
5. Bursting with "Honeymoon Phase" Feelings?
New to your relationship? Then this V-day gift idea for him is a winner for you, too! Because it's thoughtful, without being too personal just yet. It keeps things casual, while keeping any Valentine's Day gift-buying pressures at bay. (*Drumroll please…*) Plan out a simple, cute date night. Dinner at one place, maybe dessert at another, then perhaps a movie to end the night. The fun catch? Write each stop down on a piece of paper. Roll, and insert into helium-filled balloons. Have your new hunny-bunny pop the balloons to reveal the plans for the evening, on your dime.
6. Sentimental Six-Pack
This is another winner for the newly-attached, and it's one of those Valentine's Day gift ideas for a boyfriend that will never disappoint. Simply snag a six-pack of his favorite beer. Then add a cute tag that says how "beery fun" he is to hang out with. Crack open a couple cold ones and cheers to the good times ahead!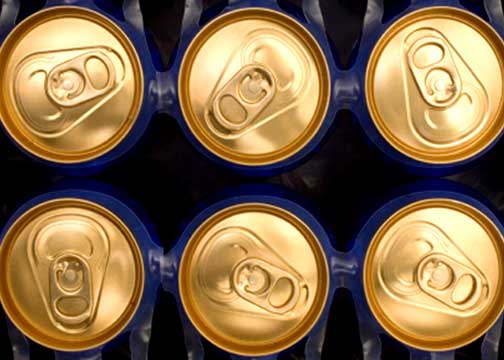 7. Booze Bouquet
Forget flowers. Bust out the big guns by giving him a bouquet he'll really enjoy getting! What you'll need: an array of shooters, sticks to attach them to, a vase to display them in, pink/red tissue or tinsel to buffer said vase, and a small box of candy hearts. Once attached to sticks, arrange the shooters in the vase as you wish. And for an extra-festive look, glue a candy heart to the top of each one's lid. If that's not an easy, awesome V-Day gift for guys, what is?!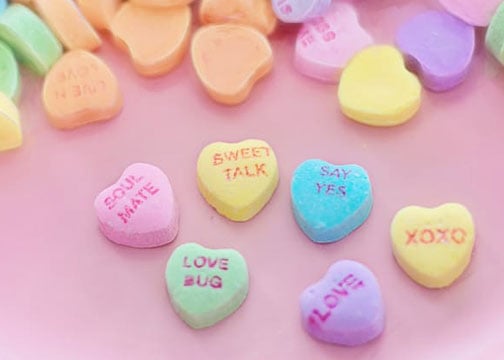 8. I Only Have Eyes for You
This Valentine's Day gift idea for a new boyfriend is a great way to keep things light. Yes, it's corny (just a forewarning)… but also keeps things casual. Throw a ridiculous amount of googly-eyes into a clear plastic baggie. Add a tag to it saying: "I only have eyes for you." Pair it with tickets to treat your peepers to a movie later.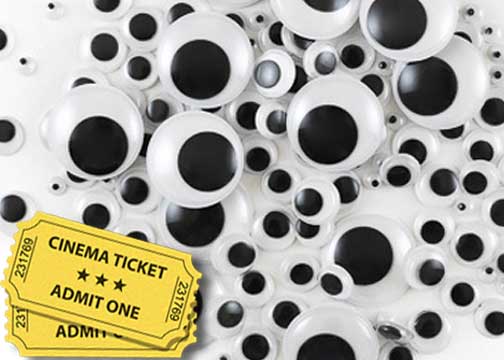 9. Candy Card
If you've only just started dating your boyfriend, this idea is the go-to Valentine's Day gift for him. Because it's safe. You can keep it light, make it funny, add some flirty, or even drop in a bit of romance (if you dare). Grab some poster board. Round-up king-size versions of your fella's favorite candies. Then go to town crafting them into sentences, telling him how sweet on him you are.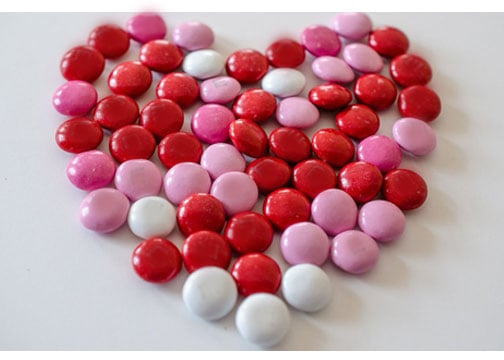 10. Jack 'n' Coke Jar
Pop a small can of Coke into a mason jar. Wrap a festive Valentine's Day ribbon around the rim or handle, to affix a Jack Daniel's shooter. Add a tag that says "Cheers!" And you've got yourself a 3-in-1 gift that's easy-peasy to put together, and sure to please any fine fella this February 14th.
Valentine's Day Gift Ideas for
"Intermediate" Boyfriend
11. Picture-Perfect V-Day Date
Gift him with a classic Polaroid or one of technology's more modern versions. Then capture each of the magical Valentine's Day moments you share together on February 14th or the weekend before. Bonus points if you get Pinterest savvy with how you display the photos documenting how you spent Cupid's big day together!
12. "Why I Like You" Chocolate Map
Buy a hefty box of chocolates, and remove the "map" from the inside. Use it to trace a copy of it. Then rather than listing the type of chocolate in each little circle or square, write in one of your favorite traits about your main man instead. As far as Valentine's Day gifts for him go, few others offer as sweet a surprise as this! (Note: don't discard the real map, though—no one likes biting into a questionable piece of candy!)
13. Go the Extra Mile
This may not be tangible, per se, but it's one of the best kinds of Valentine's Day gifts for a boyfriend to receive on the 14th. Do something he loves to do—that he knows isn't your favorite. Whether it's a restaurant you have different opinions on, an outdoor activity you try to avoid, a video game he's obsessed with that you prefer to do without… anything! The mere gesture of proactively planning time to enjoy together (doing something he's wild about) is sure to show him how mad you are about him.
14. Tag His Tie
This gift idea is perfect for the boyfriend who dresses snappy for work each day. Buy him a new tie. Then get crafty creating a little love note to replace the small tag affixed to the back of it. A few quick stitches will easily attach it to the manufacturer's label. What's extra-cute about this idea is that it's so subtly placed, it's like a sweet little secret between the two of you every time he wears it.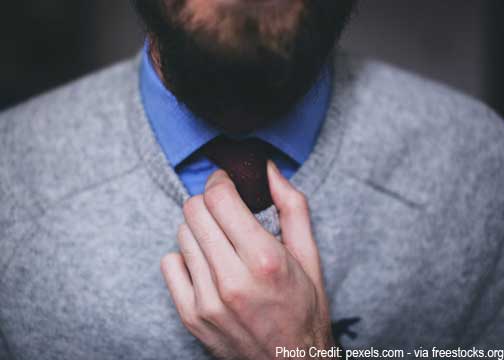 15. Personalized Flask
If your man is a fan of stiff drinks, this is ideal! Just a few keystrokes and clicks will get a cool V-Day gift for him ordered, and ready for pick-up or delivery in no time! Personalize the stainless steel with his initials, a significant date, or a word that entails an inside joke, etc… This practical gift will help him take his buddies Jack, Jim, José, Captain and others on countless outings!
16. Couple-Worthy Coupons
Whether you design them entirely on your own or go for the store-bought ones to fill-in—rest assured this idea can't go wrong! Give your boyfriend a book full of date nights, small favors, big gestures, little love notes, and the like.
17. A Year of Monthly Dates
This cute Valentine's Day gift idea for your boyfriend is top-notch if your relationship is long-term or you're sure it's going places. Buy 12 cards. Then plan a date that corresponds with each month (i.e.: whisky tour in August; camping, campfire, beer and s'mores in September; haunted hayride in October; pro football game in November; tour Christmas lights in December; etc.). Decorate the envelope for each month accordingly. Put 'em all in a gift bag and boom… done!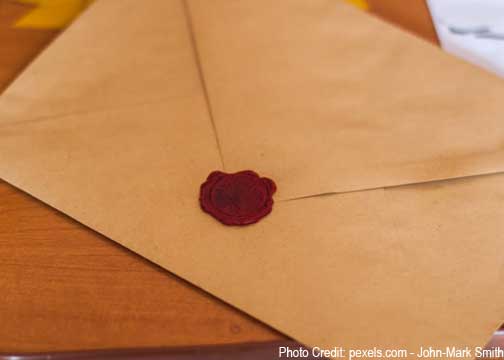 18. Heartfelt Homerun!
If the two of you happen to have a mutual soft-spot for America's favorite pastime…. Pass the time before the season starts with this adorable gift idea for him! A variety of retailers sell heart-stitched baseballs. Hand-write a note on the back of it, and pair it with the promise of a day at the ballpark, complete with hot dogs, cold beer, and plenty of home team flair!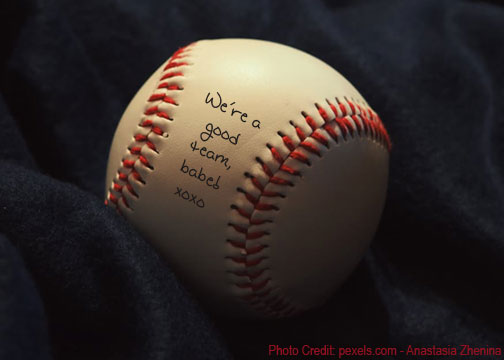 19. "Pick" the Best V-Day Gift for Him
For the man who is a fan of acoustic tunes, a small gesture can go a long, meaningful way. Customize a guitar pick or two (or heck, why not a whole bunch of them if he's a die-hard musician). Have little love notes or inside jokes etched onto the picks. Or, if you're feeling extra-creative, design an image to pop on 'em.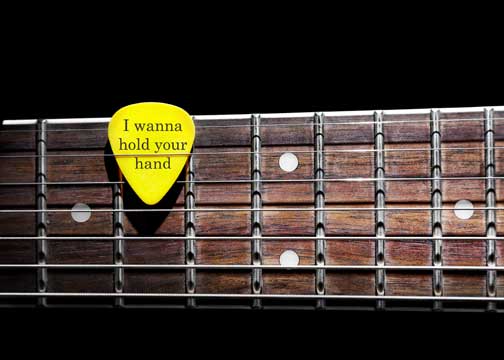 20. A Stuffed-NOT-Animal
Rumor has it that grown men are generally not overjoyed at unwrapping a stuffed animal. But if you still feel super-inclined to get him something cuddly, how about going the pillow route? A small throw pillow will do. Employ the help of some fabric markets, and voila! You've managed to get him to appreciate a stuffed-not-animal at least a little bit.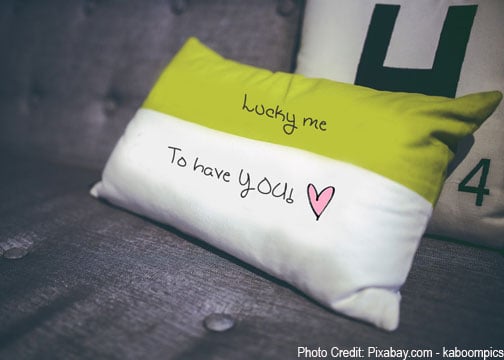 21. A Few of His Favorite Things
Find a brown paper bag. Add as many of the little things you know he likes to it: snacks, Redbox rental coupons, gift card(s) to his go-to pizza place, etc. Tie the bag up with a string. Then literally add a cute message to the outside of this awesome V-Day gift that says: "Brown paper packages, tied up with string—these are a few of your favorite things!"
22. Word Cloud Wall Art
This is exactly as it sounds. It's so simple to do (and can be extra-easy on your wallet), yet looks incredibly classy. Countless websites exist that allow users to generate word clouds for free! So think of all the sweet 'n' sexy adjectives that describe your main man. Design your cloud, then pop the result in a sleek black frame.
23. "Love You to the Moon and Back"
Even if you're already well-seasoned to your relationship… Your love life doesn't get much more romantic than a starry sky. So plan a trip to a local planetarium. You're guaranteed to be fascinated. And it will make stargazing in "real life" that much better, afterwards.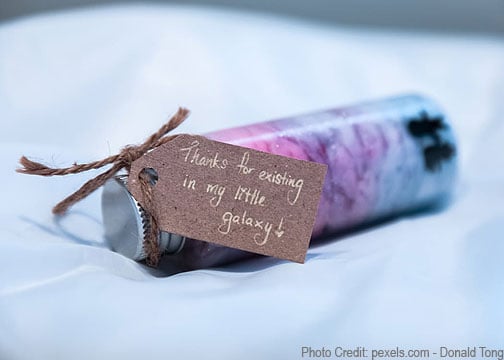 Valentine's Day Gift Ideas for
"Forever" Boyfriend
24. Customized Coffee Mug
Websites galore will make this gift a reality. But an immediate word to the wise: don't plaster a photo on it. Instead, upload a cool design or drawing of your own. Or add an inside joke or the coordinates of where you met or your favorite date. Top it off by filling it with a bag of chocolate-covered espresso beans or a gift card for purchasing grounds at his favorite caffeine spot.
25. Scratch-Off World Map
This gem (from retailers like UncommonGoods) is the perfect way to start or finish adventures with your other half! You can either scratch off the globetrotting the two of you have already done together, and keep adding to it. Or, use it as your vision-board of places you both want to venture off to. Delight in both domestic and international dreams with this clever 'n' cute V-Day gift idea!
26. A 'Sense-sational' Valentine's Day Gift Idea for Your Boyfriend
Using 5 gift boxes/bags to reflect the five senses, fill them with one gift each to represent: sight, sound, touch, taste, smell). Whatever gifts you choose is up to you! Need ideas? Sight: a cute photo of you two or tickets to a movie. Sound: tickets to a concert. Touch: 30-minute massage. Taste: favorite candy or gift card to dine out. Smell: mood-setting candle or his preferred cologne. The possibilities are endless!!
27. "You Get My Heart Racing" Experience Gift
Been together for what seems like forever? Spice things up and give your relationship a boost, with the chance to try something new and adrenaline-infused together! Brave heart-pounding adventures for couples like bungee jumping, skydiving, ziplining, aerobatic flights, and the like. It's bound to be a V-Day gift for him that's absolutely unforgettable!
28. What Our Love Song Looks Like
For the couple that's in it to win it, this one's for you. If you're to the point where you "have a song," certain companies will turn that song's unique sound waves into canvas wall art. It's thoughtful, personal and creative. So give it a Google to see if it's a winning Valentine's Day gift idea that your boyfriend might adore.
29. Picture Puzzle
Not gonna lie—this idea has the potential to slide down a slippery-slope when it comes to being cheesy. As a result, we recommend accomplishing that on purpose, straight out of the gate. Select a photo that screams goofy, and have it made into a puzzle. Pair this V-Day gift for him with his favorite liquid libations, and you have yourself a gift that will make both Cupid and your main man proud!
29½. Picture Puzzle – Part II
A slightly less cheesy and ultra-creative route to go with this puzzle present… Buy a Valentine's Day present for your guy… any present, big or small. Find a fun place to stash it. Then make a map of where it is, in the house or otherwise (as simple or elaborate as you'd like). Turn a photo of the map into a puzzle, that he has to piece together in order to find his real gift.
Need more ideas? We've got 'em!