Check out all our Birthday Gift Ideas in your area!
Are you the type of person that plans the same stuff for the same events… Every. Single. Year?
We know it can be tough to keep annual festivities fresh. Especially if you are a party-planning committee of, well, one. But just imagine the look on the face of a significant other or a best friend when they happen upon some unexpected TLC on their big day.
Whether you're looking for a secret party idea for her, a birthday gift for him that really wows the socks off, or a tiny gesture that conveys giant wishes—it's entirely possible to take traditional b-day tactics from ho-hum to awesome…
Shake up a celebration with these 25 surprise birthday ideas!
1. Place a special delivery to work
It's always fantastic when a birthday happens to land on a non-workday. But if there's no dice on that chance, the next best thing is to add a warm glow to a day spent under fluorescent lights. Give an office space some sparkle with the delivery of pizza, balloons, cupcakes, flowers, fruit bouquets, singing telegrams, etc.
2. Say "Happy Birthday" on a blog or ad space
The best birthday surprises come when least suspected by a recipient. So work 'em into their daily 'routine'! One wonderful way to do this is via online news sites or blogs that he/she catches up on each day. Pay a small price for the big smile incurred by utter disbelief, when your special person stumbles upon a personalized wish in a banner or sidebar ad space!
3. Fly in a long-distance friend or family member
When it comes to surprise birthday ideas for boyfriends or girlfriends, focus on quality over quantity. A big shindig has great potential. But having a sibling or best college buddy show up at the front door for a mini-reunion weekend, after months or even years of being apart, will bring unbeatable amounts of enthusiasm and memories for all. For a totally different kind of high-flying adventure, you won't want to miss out on these learn-to-fly experiences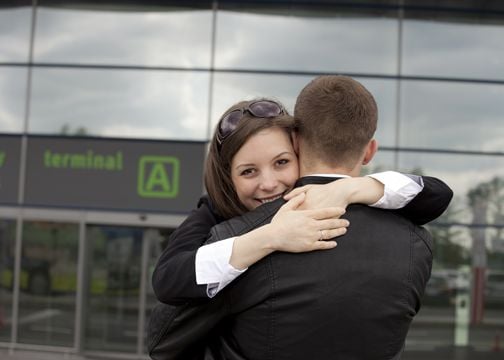 Everyone has at least one place that evokes a comment like: "I wish I'd gone there back in the day," or "I want to go there someday." So… take 'em there! A birthday surprise like this comes with the flexibility of boasting any size scale, from the simple fix of a local restaurant that's yet to be tried, to perhaps a more luxurious getaway.
5. Movie montage of memories
Recruit family and friends from all over to send you a digital video recording that entails a wish for the big day or a favorite memory. Compile them all, getting as creative as you'd like to create one great, big personalized file/DVD that is bursting with surprise birthday cheer for the unsuspecting honoree.
6. Snail mail
Ahhhh, the lost art of letter-writing, sealing, stamping, and sending. Strange but true, folks these days just don't expect to receive fun mail through the good ol' USPS anymore. Which warrants one heck of a fantastic surprise birthday idea. Send an 'old school' card or letter to the lucky person. Want to go a step further? Send an entire package full of festive b-day love. Or send multiple cards/letters over the span of a few days!
Just when they thought you were going to cook for them… guess again! Surprise that birthday boy or girl with a gift that will tantalize their taste buds. The best part? With these personal chef experiences, neither of you will have to lift a finger. Hiring an in-home chef to create a mouth-watering meal is an easy way to enjoy a relaxed evening of elegance, quality time, and favorite gourmet foods together.
8. Rad radio message
What's a surprise birthday idea for your best friend that is short 'n' sweet but heard all over? Wishes sent over the airwaves! Chances are, you've been in his/her car or home enough to know what radio station is the favorite. So dial it up to request a song or give an on-air shout-out to the birthday guy or gal. Whether commuting or just kickin' it, it's bound to make a radio listening experience all the more exciting.
9. Yarn trail
Place a gift somewhere—anywhere, near or far. Tie one end of a ball of yarn to it, then basically go for a walk. Stroll around the house, the yard, or maybe even wherever birthday festivities may be taking place. When you get to the other end of your string (or have reached your ambling limits), tape it to a small box or card for him/her to open, with instructions to follow the string for a birthday surprise!
10. Giant box full of balloons and…
This is one of the most clever ideas for delivering a surprise birthday gift. It's best for lighter presents (like cards/certificates). Attach a gift to the end of a helium balloon bouquet. Gently stuff the balloons into a larger box and wrap them, ready for your recipient to squeal with shocked delight when the box flaps open! Be sure to use enough balloons that they float up, but not TOO many that they get away from the lucky gift-getter.
11. Adult piñata
This is ideal for, say, a surprise 30th birthday idea. Or any 'mature' age that is still feeling young at heart. And the fact that it can be filled with much more than just candy only adds to the adult fun. Think along the lines of age-appropriate goodies like shooters, a gift certificate to conquer a bucket list wish, or a bunch of desirables that make up a 'kit' of some sort.
12. Door & hallway hack
This sort of birthday surprise for a best friend, boyfriend, or girlfriend is a classic. And it can be accomplished in a couple of ways. Vertically rig balloons and streamers to fall into your honoree when a door opens. Or for a slightly less MacGyver-esque move, fill a hallway or a room with a ridiculous amount of helium fun for him/her to walk into.
13. Not-so-typical picnic
This surprise birthday idea is perfect for a husband or wife. Include all the usual picnic fixings, but go beyond the basic blanket set-up for an even more romantic, magical meal. Think outside the box (or rather the picnic basket) for ways to decorate the area around the blanket. String mason jars full of LED tea lights from a nearby tree. Anchor countless pinwheels around your spot on a hill. Line the perimeter with balloons. And so on.
14. TICK-TOCK, IT'S B-DAY O'CLOCK
For those who love surprise birthday presents that just keep on coming, this idea is for them! Decide on as many 'designated gifting times as you'd like throughout the day. Then wrap a corresponding present for each. When the clock strikes any of those times, your recipient opens the corresponding package.
What do you get when you add a splash of sparkling wine and a cute bouquet of balloons to a rowboat? A romantic birthday surprise for a husband, wife, boyfriend, or girlfriend! Take 'em out on the H2O to drift merrily along. Make even more waves on the outing, by adding a buoy to the festive fun—one that just so happens to have a gift of sorts attached to it. For a truly epic birthday surprise, consider treating them to a scenic dining cruise!
16. Birthday baño
This gem is reserved for those with a sense of humor. Decorate the underside of a john's lid and maybe even the seat (because we can only hope that if you intend to use it as a surprise birthday idea for a boyfriend or husband, he's the type to put the seat up when necessary). Then just imagine the sheer astonishment doing one's business will deliver.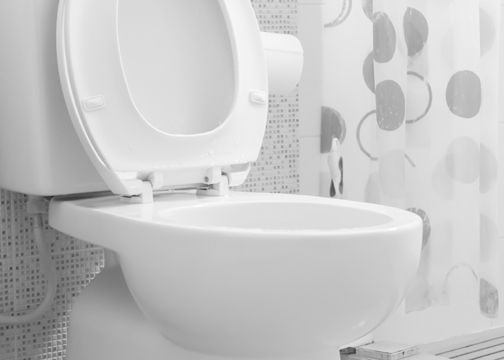 There's one present to rule them all… because it holds the first clue to as many as you'd like to follow it. This grand activity is great for celebrating any age. And as such, the last clue can lead to a ridiculously awesome gift or a room full of favorite people! Don't feel like planning your own hunt? Check out these incredible treasure and scavenger hunts located across the country!
18. Sneaky party favor flair
This birthday surprise idea for adults is the most spectacularly subliminal b-day wish around! It's especially effective for adding an element of flabbergasted greatness to a party, particularly if the get-together itself isn't a surprise to the honoree. Customize flair like beverage koozies, printed balloons, t-shirts, etc. with general cliche birthday sayings, photos or inside jokes. Make sure everyone in attendance is sporting the flair, in order to pack the most powerful surprise punch!
19. Midnight madness
This doozy is perfect for the person who ISN'T typically a night owl. Set his/her alarm to go off at midnight on their big day. Then do fun activities like a quick beverage before a nearby bar closes. Breakfast at night at an all-hours diner. A moonlight hike. A campfire with s'mores. Unwrapping a first b-day gift of the day. Then watching the beautiful sun come up from a hot lookout spot.
20. Creative car-jacking
Colored chalk isn't just for sidewalks… and this fun surprise birthday idea for a girlfriend or boyfriend isn't just for high school students and school spirit. But that association means it will likely be easy to pull off and evoke a genuine shock for the person on the receiving end. Add plenty of festive art flair to their ride. And if you're feeling extra-nice, throw a car wash into the mix for later.
Think of this idea as a free-for-all for the birthday guy or gal's taste buds. Put together a table fit for a whole day of leisurely feasting. It should boast an array of favorites, featuring your person's top-choice of eats, sweets and liquid treats. Whether it's a healthy spread, an assortment of guilty pleasures, or a little of each, the result is bound to be a full stomach and happy heart. Would you rather eat somewhere out on the town? Don't let these mouthwatering food and drink experiences pass you by!
22. Limo life
Go get ice cream. Enjoy dinner out. Sip a glass of bubbly. Cruise over to a friend's house. Grab a slice of pizza and a beer. Whatever you do, do it in a luxurious stretch limo. Because even the most ordinary activity seems 'extraordinary' when a birthday surprise seats someone in a set of these exquisite wheels!
23. All-star sporting event
Go the extra mile when it comes to giving tickets to a game. Do you have inside connections, or does a venue offer certain "amenities" in exchange for forking over a little green? Try to arrange a meet 'n' greet with his/her favorite player. Or even if the local hot shots aren't available, you may still be able to finagle a private photo opp on the pro turf before spectators roll in and the game commences.
24. Awesome outdoor décor
Most people expect birthday surprises within 4 walls. On mirrors, doorways, hallways, desks, etc. So put a new twist on this old festive favorite! Exceed expectations by decorating the OUTSIDE of the house. You know, like how folks do for the holidays… but with birthday goods! Think of it as celebratory TP'ing…. For adults.
25. Throw a HALF Birthday Party
No explanation should be needed for why THIS is the BEST birthday surprise for adults! Think about it… how many people even give their birthdays a thought 6 months before/after it happens? Which gives you plenty of time to plan, invite, commence and pull off the most incredible surprise party someone has ever experienced! (And keep it an actual surprise.)
No matter how you decide to surprise them, we firmly believe this year will be truly epic! To make their special day even more exciting, consider treating them to an experience gift. From fast-paced racing adventures to sunset kayak trips and even food tours, these gifts will make their birthday unforgettable.