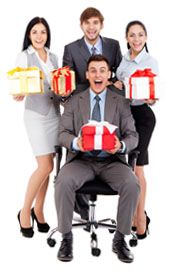 'Tis the season to deck the cubicle walls for the office Christmas party, and be extra-jolly with all of your coworkers (free of all judgment, of course *wink, wink*). Any potential of indiscretion aside, it's also time for giving work-place holiday gifts. Which can usually evoke at least one "bah-hum-bug" among the staff.
Your mission this merry-making season, should you choose to accept it, is to wipe out any chance those three syllables are uttered under the breath of any Scrooges huddled around the water cooler.
Granted, this can come with its challenges when each office Christmas party plays reindeer games in different ways—secret Santas, white elephants, gag gifts, name-drawings, bosses' annual holiday presents…. Keeping up can be like trying to be normal on the Island of Misfit Toys.
So here are some extra-easy options that will thrill all sorts of coworkers, no matter what type of work Christmas party you end up attending. From practical to posh, thrifty to splurge-worthy, laughable to "I love it" — you'll delight in the endless possibilities that come with these ideas!
8 Infallible Last-Minute Gift Ideas for Your
Office Christmas Party!
1. Christmas Spirits
It's hilariously entertaining to watch what folks will competitively swap and steal at company Christmas parties. This option is extra-easy to buy and wrap; plus it's very accommodating if spending limits are set. And you can rest assured that even the cheapest bottle of booze (likely purchased with the simple intention of a few chuckles) will actually be in high demand among gift-getters.
2. Lunch Gift Card
Whether a CEO or an entry-level newbie, this gem is the coveted golden ticket of all the bees in any hive. A lunch hour that involves eats on someone else's dime, and that didn't have to be packed the night before, makes for the jolliest of all lunch hours! It's usually pretty easy to get a pulse on what nearby locations are hot or not. So your gift hunt will be short 'n' sweet, and your present will be a true hit at the office Christmas party!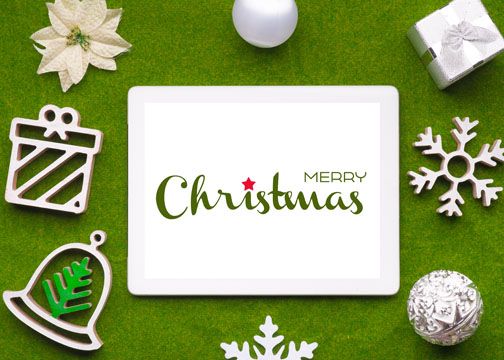 3. Ceramic Mug
Imagine an accessory that's perfect for beverages of nearly all varieties: hot, cold, coffee, tea, soda, water, anything! A distinguished mug is not only a great addition to brighten up someone's desk, but it's also practical and can be either trendy or tastefully cheesy. Up the ante on it by adding a coffee gift card to the mix (someone is bound to thank you for the caffeine!). Or pop some swanky office supplies in it for extra white elephant-esque flair.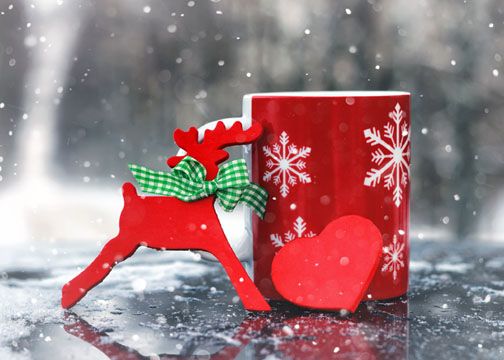 4. Chocolates
Don't let this basic gift idea fool you! It works great at nearly any type of office Christmas party for one main reason: expectation. The holidays wouldn't be the holidays if an overdose of sweets wasn't involved. And this kind of last-minute work gift is perfect for any budget. Plenty of very nice options abound, ranging from economical ($) to more eccentric ($$$). And even if the recipient doesn't love a good cocoa fix themselves, that usually means they will share with other coworkers. Which makes lots of people happy.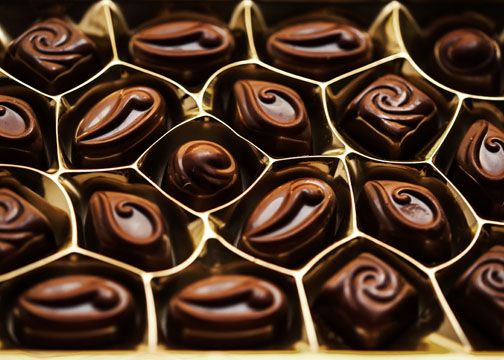 When the majority of our waking hours are spent at work, it's important to cherish free time. For some, this entails some serious Netflix binging from the comfort of a cozy couch. For others, it's a refreshing urban excursion or something outside of the daily grind. Think along the lines of vouchers for movies, tours, bowling nights, spa treatments, sporting events, wine tastings, yoga sessions, art classes, etc. (And yes, Netflix gift cards are actually sold at various retailers, if you go that route.)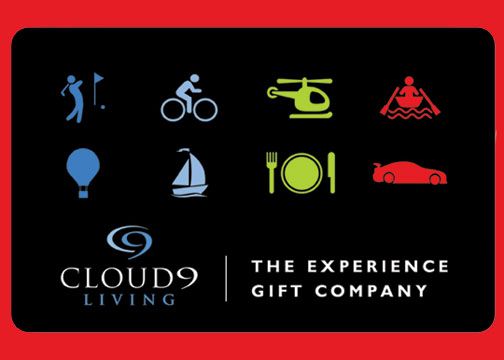 6. Homemade Cookies/Treats
It's impossible for even the Grinchiest of coworkers to ignore the TLC that goes into homemade treats when they see it. So giving a present like this means you're bound to make hearts grow many sizes at the company Christmas party. As an added bonus for you, it's another last-minute holiday present that can be tailored and packaged to fit any budget or gifting style. Dress 'em in a happy, tacky tin. Or pair 'em with a bottle of wine or bubbly to wow some socks off.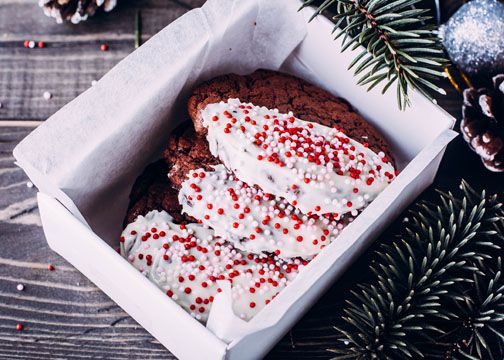 7. Box of Balloons
This gift is wonderful no matter who opens your festive contribution to the office Christmas party. Place some red and green helium balloons in a giant box. (Helpful hint: Candy bars make excellent balloon "weights.") Wrap. And voila! You've got a gift any coworker will adore. Because (A) no one can get mad about tearing open a giant box, like being a kid at Christmas again. And (B) the cheerful balloons that joyfully float up are a delightful surprise for the lucky unwrapper and the audience.