For us, there's just something so magical about the winter season. 
A layer of snow blankets the streets, icicles hang from roofs, and we can't help but cozy up to the fire with a warm cup of cocoa. 
For some of you though, winter means frigid weather, wet socks, and gloomy days. But, fear not! Winter doesn't have to be your most dreaded season! From stay-at-home craft kits to frosty snowshoe and snowmobile adventures, these 20 fun activities are sure to keep your spirit warm all winter long. 
1. BUILD A SNOWMAN
When was the last time you went outside and actually played in the snow? You'll feel like a kid again as you create the world's best snowman. Don't forget to dress him up with a hat, scarf, and a carrot nose! Afterwards, head back inside for a well-deserved cup of tea or cocoa. 
Climb aboard a high-powered snowmobile and get ready to zip, zoom, and tear through the snow! Perfect for anyone looking to get out of the house, snowmobiling is a thrilling way to explore new places. Tackle rolling hills, ride through the forest, or discover the Rocky Mountains with this guided tour in Colorado! 
3. EMBARK ON A WINTER GETAWAY
Instead of packing for a tropical vacation, grab your winter coat and travel to a winter wonderland! Our recommendation? This 4-Day Best of Yellowstone Winter Tour! Experience America's first national park and view incredible wildlife such as wolves, bison, elk, and more.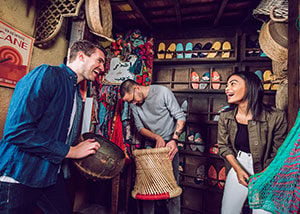 Not every winter adventure has to be in the great outdoors. Gather your crew and step inside a state-of-the-art (and warm) escape room! Featuring tons of exciting themes, these immersive challenges will put your critical thinking skills to the test. Uncover clues, solve riddles, and see if you can escape in 60 minutes or less! 
There's no better way to fight off the winter blues than with a relaxing spa day! Indulge in a warm bubble bath at home or treat yourself to a professional spa session. Forget the cold weather and clear your mind inside an infrared sauna. Or, feel all of your stress melt away with a hot stone massage. 
6. GO DOG SLEDDING
Imagine cozying up on the back of a sled as a team of energetic dogs pull you gracefully through the snow. Enjoy views of snow-capped mountains and icy trees as you listen to the pitter-patter of puppy feet. Afterward, don't forget to take a selfie with the world's cutest tour guides! 
7. LOOK AT HOLIDAY LIGHTS
Put on a cozy hat, fill up a thermos with cocoa, and head outside for an amazing illuminated walk! You'll feel merry and bright as you walk past brilliant displays of rainbow-colored lights. Explore your own neighborhood or discover the magic of a professional light display. 
Brighten up those gloomy winter days with this At-Home Candle Pouring Workshop! This amazing kit gets shipped to your doorstep and includes everything you need to make a hand-poured artisanal candle. You can even choose your own design, vessel, and scent! 
Experience the beauty of Alaska on foot and from the air with an unforgettable Winter Heli Snowshoeing Adventure! You'll get a bird's eye view of the massive Knik Glacier, the Chugach Range, and Lake George. After soaring over the Alaskan wilderness, strap on a pair of snowshoes and soak up even more breathtaking landscapes. 
10. STAY INSIDE AND BAKE
You can wear your favorite PJs for this one! Preheat your oven and spend the day making delicious sugar cookies or try your hand at baking bread. If you're feeling extra creative, consider creating your own homemade gingerbread house! Using candy and icing, design a beautiful (and tasty!) wintery scene. 
One thing is for sure, these beer tastings and brewery tours will have you feeling warm in no time! Perfect for date night or as an outing with friends, you'll have a blast sipping on some of America's best brews. Not a beer fan? Make delicious cocktails at home with this virtual masterclass! 
Ever been cross-country skiing? How about snow kiting? Find your new favorite winter sport and book one of these incredible snowy adventures. For the thrill seekers, we highly recommend ice climbing! Using ropes, ice axes, and crampons, you'll have a blast conquering frozen waterfalls and massive sheets of ice. 
13. SOAK IN A NATURAL HOT SPRING
If you've never experienced the serenity of soaking in a hot spring during a cold winter's day, then you're missing out! Find one of these amazing natural wonders in your neck of the woods. Or, treat yourself to a rejuvenating getaway with this Two-Night Cabin Stay and Hot Springs For Two package in Corwin Springs, Montana! 
14. READ A GOOD BOOK
This is one of our favorite activities to do when it's snowing! Find your favorite blanket, open your curtains, and read. Read a familiar classic or pick up something entirely new. As countless snowflakes fall gracefully from the sky, you'll be comfy and warm inside. A hot cup of coffee is also a must! 
Get those creative juices flowing and experience the therapeutic benefits of sculpting with an at-home pottery kit! With this incredible bundle, you'll receive premium air-dry clay, paints, sculpting tools, and so much more. Follow easy-step-by-step instructions and create a stunning vase, decorative bowls, or even an adorable succulent pot! 
16. GO SNOW TUBING
Inflate an inner tube and find the best hill in your neighborhood. Since they're filled with air and made from lightweight materials, snow tubes are usually faster than sleds. You'll feel a wave of excitement as you pull your tube up the hill and slide down. The steeper the hill, the faster you'll go! 
These murder mystery dinner shows combine two of our favorite things: good food and immersive, whodunnit fun! Upon arrival, you'll be seated and served a delicious 4-course dinner. Suddenly, you hear a shot in the dark and a distant scream. Channel your inner detective, uncover clues, and solve the mystery! But remember, everyone is a suspect…even you! 
18. MAKE SOME SOUP
There's nothing quite like coming in from the cold and sipping on a hot bowl of soup. Learn how to make your own pasta and create the best pot of chicken noodle soup or try something new. Some of our all-time favorite soup recipes include split pea, loaded baked potato, and chicken tortilla! 
Those frigid winter days are the perfect time to learn something new. And with these virtual experiences and classes, you don't even have to leave the comfort of your own home. Choose from online guitar lessons, cooking classes, and even photography courses. During this Online Sewing Course, you can even learn how to make your own comfy winter hoody!
20. DAYDREAM ABOUT SUMMER
If you just can't shake those cold winter blues, then start planning your summer bucket list! Simply put, having something to look forward to feels good. So, design that perfect beach outfit or research all the hikes that you want to do this summer. Knowing that there are warmer days ahead, you'll be energized all winter long! 
Whether you prefer to spend those chilly days inside or out exploring, we hope this list of 20 Fun Winter Activities has inspired you. Want to discover even more unforgettable adventures? No matter the season, browse thousands of incredible experiences here!