The City of Angels.
La La Land.
Tinseltown.
The Big Orange.
Even though Los Angeles goes by many different names, this city is one of the most recognized destinations in the world. Known for its star-studded streets, award-winning amusement parks, and warm beachy vibes, it's not surprising that millions of visitors flock to this iconic city every year. 
If you're looking for unique and fun ways to experience LA for yourself, then you've come to the right place! From adrenalizing bungee jumps and fighter jet rides to scenic hikes through the Hollywood hills, we've created a list of the city's best adventures and activities. However you like to spend your time, these 20 activities are sure to make your time in LA unforgettable! 
1. ENJOY THE NIGHT SKY
With how big and bright downtown Los Angeles is, you may think that stargazing in the city is impossible. However, exploring the night sky is easier than you realize! Located on the slopes of Mount Hollywood, the Griffith Observatory is a fantastic place to soak up panoramic views of the city and the cosmos. Discover the far reaches of the universe inside one of the world's finest planetariums or search the skies for shooting stars through one of the observatory's free public telescopes!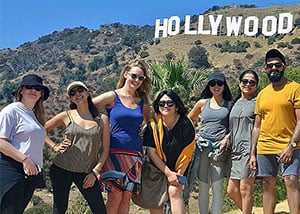 Your trip to LA is not complete without taking a selfie in front of the Hollywood Sign! Perhaps the most famous landmark in all of California, this massive sign is 350-feet long and features nine 45-foot-tall white letters. Experience this incredible monument firsthand and admire spectacular views of the city during this Ultimate Hollywood Sign Hike! After approximately 1 mile of easy hiking, you'll be rewarded with one of the best views around. As you gaze up at the sign, don't forget to snap a few photos to commemorate this bucket-list-worthy adventure.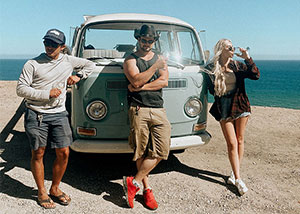 Nothing says the perfect day quite like this one-of-a-kind Vintage VW Bus Tour out of Malibu! You and your closest friends or family will have a blast cruising through wine country aboard a colorful and classic VW Bus. Fuel your adventure with complimentary snacks and visit 2-3 of your guide's favorite vineyards. Swirl, sip, and savor some of SoCal's best vintages while enjoying the area's stunning landscapes. After experiencing wine country, you'll head back towards the coast for some truly epic ocean views! 
4. RIDE A ROLLER COASTER
It's no secret that Los Angeles is home to some of the world's best amusement parks. But did you know that LA is also the backdrop for one of the world's longest and fastest roller coaster drops? After securing your lap bar on Six Flags Magic Mountain's Goliath coaster, you'll be lifted a staggering 235 feet into the air. Feel adrenaline pulse through your veins as you speed towards the ground at 85 mph. Just when you thought things couldn't get any more exciting, you'll experience a moment of pure weightlessness and 4.5 G's as you spiral through a twisting helix.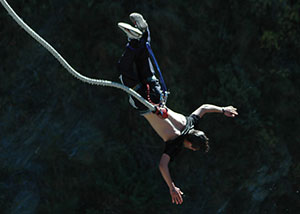 If roller coasters aren't enough to satisfy your inner adrenaline junkie, consider leaping off a 10-story high bridge instead! Originally built in 1936, the Bridge to Nowhere was supposed to connect the San Gabriel Valley with Wrightwood, CA. However, after flood waters washed out part of the road, the project was never completed, and the bridge was left forever stranded above the San Gabriel River. During this incredible bungee jump adventure, you'll hike to the historic bridge before gearing up to jump. Feel your palms begin to sweat as you stare down at the river below you. Then, take a daring leap of faith and listen as your screams echo through the canyon. This is one adventure you'll never forget!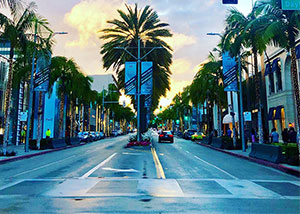 Known as the entertainment capital of the world, Los Angeles is truly one of the best places to spot your favorite celebrities. During this exciting Hollywood Celebrity Homes Tour, you'll get an insider's look into the lives of the rich and famous. Your expert guide will take you to some of the city's best celebrity hotspots and other iconic landmarks. You'll even get to drive past a few famous celebrity homes that may include Katy Perry, Rihanna, Leonardo DiCaprio, and more! 
7. VISIT A FARMERS MARKET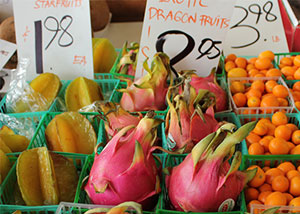 Located just east of Beverly Hills, the Original Farmers Market features over 100 locally owned food stalls and specialty shops. Indulge in the catch of the day at Monsieur Marcel's Seafood Market or sit down to a mouthwatering Italian meal at the Pasta Corner. Beyond delicious food, you can also find incredible handmade jewelry, clothing, and even fresh-cut flowers and houseplants. Before leaving the market, be sure to satisfy your sweet tooth with ice cream, colorful candies, or an incredible ooey-gooey cinnamon roll. Want to explore the market with a guide? Check out this entertaining and informative Farmers Market Food and History Tour!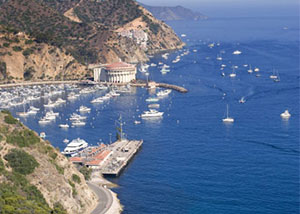 Simply put, Catalina is the epitome of an island paradise. Departing from Long Beach, your incredible island adventure is just an hour-long ferry ride away. From relaxing inside a beach bungalow to snorkeling and paddleboarding through pristine blue waters, there's something for everyone on Catalina Island. For a truly unforgettable Catalina experience, consider booking this all-inclusive 2-night getaway! By day, you'll explore everything the island has to offer and enjoy delicious gourmet meals. By night, you'll camp along some of the island's remote beaches and rest easy under a sea of stars!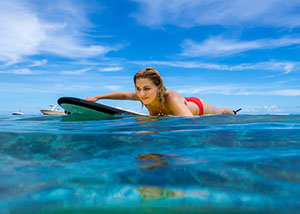 If you've ever dreamed of surfing the Pacific Ocean's crashing waves, then this Private Surfing Lesson should be at the top of your bucket list! With the help of a professional instructor, you'll learn the basics of surfing and how to catch the perfect wave. By the end of your lesson, you'll be riding waves and feel more comfortable standing on your board. Already familiar with surfing? No problem! This lesson can be adjusted to match your skill set and will help you reach your surfing goals. If surfing isn't quite your thing, check out this one-of-a-kind Stand-Up Paddleboard Yoga Class instead!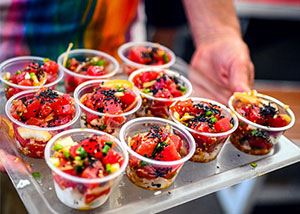 From Michelin-starred restaurants to pop-up eateries and well-known fast-food joints, the streets of LA are teeming with mouthwatering food options. Experience these culinary wonders firsthand with these delicious food tours! Discover the best foodie spots as you taste your way through downtown or sample the best bites of Venice Beach. For those of you that love a good dinner and show, you won't want to miss this exciting Pirate Adventure Dinner. Combining food, fantasy, and fun, this Broadway-quality show is arrrr-guably one of the best activities in Los Angeles!
11. SHOP RODEO DRIVE
After watching Julia Roberts twirl around wearing designer clothing in Pretty Woman, who hasn't wanted to go on a Rodeo Drive shopping spree? Well, now you can experience the same VIP treatment with this fabulous shopping package! Join stylist Alyson Sakin for an unforgettable day of retail therapy as you hit the hottest boutiques along Rodeo Drive and beyond. With your personal style, budget, and body type in mind, your stylist will make sure you feel and look your best. Enjoy VIP perks such as complimentary champagne, celebrity discounts, private dressing rooms, and a personal retail service! 
12. SAY CHEESE AT THE WORLD OF ILLUSIONS
You won't want to forget your selfie stick for this one! Step inside Hollywood's famous World of Illusions Museum and get ready to wow your friends with mind-boggling photos. Discover masterfully created 3-D illusions, explore a giant's house, or uncover the mysteries of the upside-down house. When you're done wandering the illusions, blow off some steam in the museum's very own rage room! Feel all of your stress melt away as you throw, shatter, and obliterate plates and other breakable items against a wall.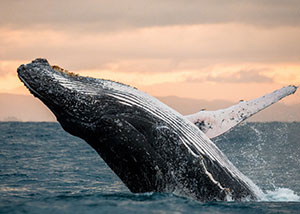 There's no better way to experience LA's incredible marine life than with this Whale Watching cruise! Featuring deep, nutrient-rich waters, Newport Harbor is a wonderful place to spot grey whales, humpback whales, minke whales, and more. The giant and elusive blue whale has also been known to make an appearance here from time to time. An onboard team of naturalists will help you identify different species and share fascinating facts about each. Beyond whales, you may also meet dolphins, seals, a variety of seabirds, and so much more!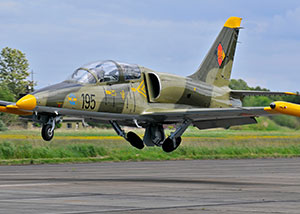 For the ultimate bucket list adventure, check out this Fly a Fighter Jet package out of Chino, CA! Embrace your inner Maverick as you board a L-39 Albatros jet and soar up into the sky. Known for its exceptional maneuverability and reliability, this small jet is a popular training craft around the world. After your pilot successfully lifts the plane into the air, you'll have the opportunity to take the controls. Learn how to expertly perform aerobatic maneuvers like Immelman turns, barrel rolls, and Cuban Eights! For a more mellow adventure, consider these exciting flying packages including helicopter tours, glider rides, hang gliding lessons, and more. 
15. STROLL DOWN THE HOLLYWOOD WALK OF FAME
Located along Hollywood Boulevard, the Walk of Fame consists of more than 2,700 five-pointed terrazzo and brass stars embedded in the sidewalks. Explore this star-studded street on foot and look for your favorite celebrity's name. Whether you're searching for Ryan Reynolds, Winona Ryder, or even Bugs Bunny, you'll have a blast wandering the walk's 15 blocks. Along the way, be sure to stop at the TCL Chinese Theatre where you can compare hand and footprints with stars Ryan Gosling, Tom Hanks, Marilyn Monroe, and so many more! 
After a busy day exploring the city, you deserve some R&R! You'll be amazed at how wonderful you feel following a Signature Facial or Swedish Massage. If your muscles are feeling extra tense, treat yourself to this rejuvenating Deep tissue Massage! Your professional massage therapist will use different techniques including deep strokes that will help break up lactic acid in your muscles. After 50 minutes of pure bliss, you'll leave with looser muscle tissue, improved circulation, and increased energy. Looking for a different kind of spa treatment? This Spafinder Wellness Gift Certificate can be redeemed towards a variety of treatments worldwide! 
Put your problem-solving skills to the test with an exciting and fun escape room experience! In order to escape the room, you'll have to decipher riddles, piece together hidden clues, and solve challenging puzzles. Did we mention there's a time limit? Hopefully, you can escape and set yourself free…before it's too late! With a variety of one-of-a-kind themes including Gold Rush, Prison Break, Special Ops: Mysterious Market, and more, escape rooms are a fantastic way to escape the city's midday summer heat!
18. VISIT A CUPCAKE ATM
Yes, you read that right! Home to the world's first cupcake ATM, Sprinkles Beverly Hills is your one stop shop for everything sweet. From traditional flavors like vanilla and red velvet to unique triple cinnamon and banana recipes, Sprinkles bakes all of their confections fresh every day. And if cupcakes aren't your thing, you can indulge in decadent cookies, brownies, and even chocolate bars! Have a late-night craving? Stop by the store's ATM for fresh cookies and cupcakes 24/7.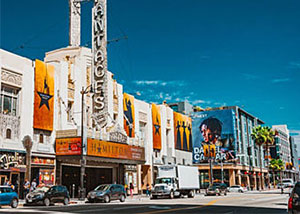 Discover the spooky side of LA with this incredible, app-led ghost scavenger hunt! Using your smartphone or device, you'll take on the fictional role of a ghost who has no memory of life before death. As you work to solve 12 challenges, you'll explore the city's creepiest destinations. Stroll down the Walk of Fame and unlock creepy tales of superstars. Check out Hollywood's haunted theaters. and find out which actress is still seen roaming around LA even after her death. One thing is for sure, you'll never see the city the same way again! 
With all of these exciting activities, it can be hard to know where to start. Lucky for you, these Go City Passes allow you to gain access into some of the city's top attractions at discounted rates! Choose to visit just a couple of destinations, or go big with a 3-day, all-inclusive pass. Visit an amusement park, take a studio tour, or even embark on a hop on hop off bus adventure. The choice is yours! While attractions are subject to change, the Go City Pass is undeniably one of the best ways to make the most of your time in Los Angeles. 
Want to explore more incredible LA experiences? Click here to discover your next grand adventure in the City of Angels!