When it comes to you love life and how to find the most romantic dates in Los Angeles, you want something that's worthy of the silver screen. Especially with Hollywood's iconic presence nearby, it would be slightly tragic to settle for anything short of marvelous.
And guess what?!
Fun date ideas in L.A. don't need to be extravagantly over-the-top in order for you to weave tantalizing tales of love in the City of Angels. Sometimes, less is more. Plenty of options abound for old and new lovers to take advantage of simple yet sensational afternoons or evenings out on the town together.
But, if you do you prefer to splurge on an outing that spoils your S.O. silly, a number of elegant choices are readily available for you to do just that.
Check out this lovely mix that combines the best of both those worlds—giving you 13 blissfully romantic dates in Los Angeles that you must try with your special someone.
1. Walt Disney Concert Hall
As far as Los Angeles date ideas go, this venue presents a true classic. Sit beside your beloved to take in the brilliant sounds of the L.A. Philharmonic, international orchestras, L.A. Master Chorale, or visiting artists. Once you've had your fill of live tunes, finish your evening with dinner or drinks.
Do dinner out a bit differently. Head to the docks of Marina del Rey for an extra-romantic date in Los Angeles (well, okay—maybe just outside of it, but well worth the tiny traverse).  Wine and dine on tranquil Pacific waters aboard a majestic luxury yacht. Snuggle together for a song on the dance floor. And let the sunset and twinkling lights of the shoreline dazzle you on the deck, next to your special someone.
3. Hollywood Sign "Stargazing"
While there's no promise that this fun date night idea will be void of tourists or other lovebirds with the same idea, it's still worth enjoying. Get yourselves up to (or near) the iconic Mount Lee landmark at twilight. Both shuttles and footpaths are available. Then watch as the spread of the glamorous city sparkles to life below, and the Milky Way fills the skies above.
Looking to really sweep someone off their feet? One of the most romantic dates in Los Angeles is a hot air balloon ride. While many of these aviation companies tend to offer primarily sunrise options in hopes of more calm, cooperative weather conditions, it is possible to find pilots who will embark on gorgeous sunset tours as well.
5. Santa Monica Pier
If you're looking for a romantic first date idea near L.A. that brings out being young at heart, you found it! The vibrant atmosphere will make you feel nothing short of alive as you indulge in the food and fun that line the boardwalk. And you can always escape the pier's hustle and bustle to go lock lips on the beach, beside the enticing, rhythmic rush of waves.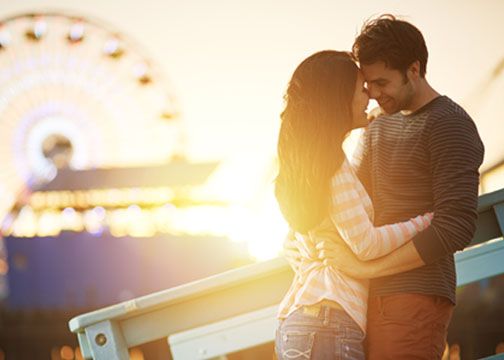 6. Exposition Rose Garden
Grab the hand of your main squeeze and stroll through this gorgeous, historic space.  Enjoy seven acres of picturesque rose petals. Snag a spot by the fountain to chat, or steal a kiss from inside the gazebo. A romantic date idea like this wouldn't be complete without keeping the sheer sweetness of the experience going as dusk falls. So why not grab dessert somewhere in LA as a grand finale to the afternoon or evening?
7. Cicada Club
Sometimes the most romantic dates in Los Angeles are the ones that treat the lad or lady you're sweet on to the alluring aura of old Hollywood. Step back in time to the 1920s with swing dancing, fine dining, live bands, and swanky cocktails. The club even has a dress code, so you know you're in for an evening at a top-notch venue.
8. Inn of the Seventh Ray
If ever a place existed for a date night in L.A. that captures fairy tale-esque enchantment, this is it! Tucked beside the majestic Santa Monica Mountains, you'll feel like royalty as you dine under the stars, surrounded by the magic of candle light, brick walkways, whimsical décor, waterfalls, and twinkling string lights. And you can only imagine the way the food will tantalize your taste buds.
There's just something inherently romantic about experiencing an endless horizon with someone you're sweet on. Maybe it's because flight brings a mixed feeling of being both invincible and vulnerable. Or maybe it's because of the reminder that even in the vast expanse of this huge world, the two of you somehow found each other. That said, take to the skies for a unique aerial outing in a helicopter high above Hollywood, for an extra-memorable L.A. date night or afternoon jaunt.
10. Electric Dusk Drive-In Movies
To get your fix of timeless, romantic date ideas in Los Angeles, head to the only drive-in theatre in the City of Angels. The retro-style set up offers a delightful blast-from-the-past feel, that will have the both of you feeling like frisky kids again (*wink, wink*). But with its full-service snack shack and plethora of modern flicks, you may not want to miss what's showing on the big screen. So grab a couple sodas, popcorn and your sweetheart's favorite candy, and let the good times roll.
11. Horseback Riding
Fun date ideas in Los Angeles abound when it comes to saddlin' up! A healthy handful of horseback riding venues are in and around the area, so it's easy to find a ranch that's right for you both. Choose from outings that amble along the likes of Griffith Park trails, enticing California terrain, or within scent-shot of refreshing salt water breezes.
12. The Last Bookstore
What could possibly be more romantic than getting lost in a sea of inspiring stories and music?! …Not to mention traversing hand-in-hand through a 'labyrinth' of well-worn pages, riddled with fascinating art and displays? Whether you're taking someone out for the first time, or spending quality time with the love of your life, this is one heck of a date night idea you do NOT want to miss. Chat about tall tales, genres, lyrics and even the chapters of your own lives as you navigate this impressive space. You're bound to discover lots about your partner in crime.
13. Bona Vista Lounge
Prefer to soak up stunning views of the City of Angels, with both feet planted *almost* firmly on the ground? The 34th floor of the cylindrical Bonaventure Hotel is an ideal spot for romantic dates in Los Angeles. Enjoy breathtaking scenery as this unique venue's bar slowly rotates, providing dazzling 360° views. The distant twinkle of city lights offers a beautiful backdrop to the lounge's low-key ambiance, making it the perfect atmosphere for indulging in intimate conversation.