Bordering the picturesque San Jacinto Mountains and Joshua Tree National Park, the resort city of Palm Springs is the perfect place to enjoy a girl's weekend getaway. Often referred to as a desert oasis, this city offers plenty of urban amenities while also catering to the adventure seekers and outdoor enthusiasts.
Imagine you and your best friends basking in the sunshine alongside a perfect, turquoise-colored pool. The surrounding palms wave gently in the breeze as you take a sip of your delicious frozen beverage. After relaxing by the pool, picture yourselves embarking on an exciting off-road Jeep adventure deep into the rocky desert. Sound like your kind of weekend? Ours too!
Whether you're wanting to explore the city, dance like nobody's watching, or discover California's vast wilderness, here's our Palm Springs weekend getaway must-dos. 
1. HANG OUT POOLSIDE
If you're spending a weekend in Palm Springs, then hanging out by the pool is essential! With warm temperatures year-round (the summer months can get especially toasty), relaxing by the water is always a fantastic way to spend your day. So, grab your pina coladas, sunglasses, and towels, and get ready to scope out the best loungers. For a splashing good time, consider purchasing a fun pool float shaped like a pink flamingo, rainbow unicorn, or even a giant slice of pizza! You and your girlfriends will have a blast swimming, sunbathing, and floating atop the cool water.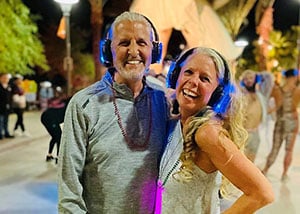 It wouldn't be a girl's weekend without a little bit of dancing, right? Well, you're in luck because Palm Springs is home to one of America's most unique dance parties. Get ready to shake it as you groove along the city streets during this outrageously fun silent disco! You'll all be equipped with a special headset that allows everyone in your group to listen to the same songs at the same time. Before you know it, you'll be busting out your best moves as you pass by some of Palm Springs' most iconic landmarks. Get your camera ready as you challenge your best friend to an unforgettable dance-off. Wild and colorful outfits are highly encouraged!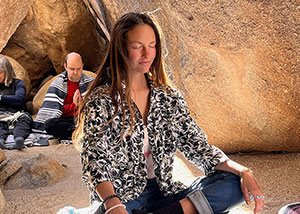 For those looking for a truly unique experience, this guided Desert Nature Walk and Meditation should not be missed! During this 3-hour adventure, you will embark on a short nature walk through the desert before entering a magical boulder cave. After lying down on a provided blanket or mat, your certified sound healer will help you achieve a heightened meditative state by using different sound waves and vibrations. You'll all leave the desert feeling relaxed, recharged, and reconnected with nature. 
4. ADMIRE THE CITY'S ARTWORK
You don't have to go very far to experience artistic expression in the city of Palm Springs. In fact, some would argue that the city as a whole is art! Home to countless examples of mid-century modern architecture, the neighborhoods around Palm Springs are gorgeous and sleek. Take a walk down Palm Canyon Drive where you and your gal pals can spend a whole afternoon exploring eye-catching galleries, trendy boutiques, eclectic furniture showrooms, and so much more! If it's too hot to wander around outside, then step into the air-conditioned Palm Springs Art Museum. Here, you'll discover a wide variety of pieces ranging from giant glass sculptures to paintings of the American west.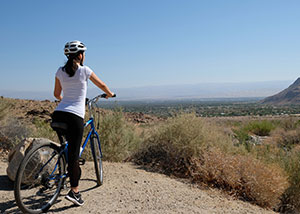 Just south of downtown Palm Springs, you will find yourself surrounded by massive rock formations, canopies of native palm trees, and stunning hiking trails. Known for its rich history and stunning landscapes, Indian Canyons are an absolute must see! Experience this area to the fullest with this incredible Indian Canyons Bike and Hike Adventure. Departing from downtown, this unforgettable bike and hike experience is sure to make girl's weekend even more epic. You'll cycle past some of the city's oldest neighborhoods and hear stories about the local Cahuilla Native Americans that call the Indian Canyons home. Walk beneath fascinating California Fan Palms, keep your eyes peeled for desert wildlife, and so much more!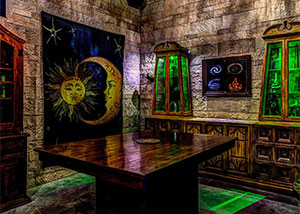 Looking for an exciting indoor activity that all of your girls will love? Look no further! Experience Tripadvisor's #1 rated indoor activity in Palm Springs with these fun and interactive escape room challenges. You'll have to work as a team to decipher riddles, piece together hidden clues, and solve challenging puzzles. Did we mention that there's a time limit? Hopefully you can escape and set yourselves free…before it's too late! Choose from several exciting themes including a bank heist, Merlin's magic school, the Titanic, and more. 
7. VISIT A CACTARIUM
When you think of a desert, images of towering cacti probably come to mind. While you're not likely to see a giant saguaro cactus growing naturally in the hills of Palm Springs, that doesn't mean you can't incorporate some of these beautifully spiky plants into your weekend. Established in 1938, the Moorten Botanical Garden showcases some of the world's most impressive species of desert trees, succulents, and of course, cacti! Walk past massive aloe plants, cute barrel cactus, and impressive prickly pears. At the end of your trip, be sure to stop in at the garden's nursery. You can all pick out your favorite cactus or succulent to take home as a souvenir from girl's weekend!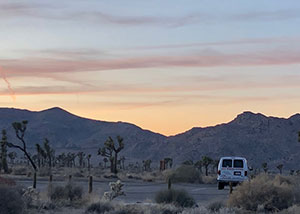 Your girlfriend getaway in Palm Springs isn't complete without a little bit of sightseeing. So, grab your sunglasses and feel the wind in your hair as you and your gals embark on an exciting driving tour through the California wilderness! Choose from thrilling off-road adventures along the San Andreas Fault or drive past the wacky and wonderful foliage in Joshua Tree National Park. No matter where the day takes you, you're sure to be transported into otherworldly landscapes filled with surreal geologic features, fascinating animals, and vibrant histories! 
Whether you and the girls are looking for an unforgettable adventure, or just want to spend some time relaxing under the warm desert sun, Palm Springs is the perfect destination for your next weekend getaway. Discover all of our exciting experiences in Palm Springs by clicking here and get ready for some incredible California fun!