America and its territories are home to 63 stunning and incredibly diverse national parks. From rugged mountain peaks and pine forests to underwater reefs and bright red canyons, some of the country's most beautiful landscapes can be found in the national parks. With such a vast number to choose from, deciding which park to spend your time in can be difficult. Lucky for you, we've already done all of the hard work for you! Here's our list of the top 10 parks that you absolutely cannot miss this summer. 
YELLOWSTONE NATIONAL PARK
It seems only fitting that the nation's first national park be on the top of this list. With 2.2 million acres to explore, there is literally something for everyone in Yellowstone. Stare blissfully into a bright blue hot spring, watch Old Faithful erupt, hike along the Grand Canyon of the Yellowstone River, or head to Hayden Valley for some wildlife watching. For a truly one-of-a-kind experience, consider adding this kayak tour of Yellowstone Lake to your agenda. You'll paddle your way across North America's largest high elevation lake and get a unique view of some of the park's incredible geothermal features! 
ZION NATIONAL PARK
Since this park is located in the desert, you might want to tick this one off your list earlier in the season. With July and August temperatures averaging around 100 degrees, things around Zion can get pretty hot. Don't let the heat deter you though because Zion is easily one of the most stunning parks in the whole country. Bright red rocks contrast with lush green vegetation and immaculate slot canyons cut through the landscape. Beat the heat and schedule a sunset hiking tour around Zion or visit two parks in one with this 2-Day Zion and Bryce Canyon Tour!
CONGAREE NATIONAL PARK
This might be one park that you've never heard of, but that doesn't mean it shouldn't be at the top of your list. Located in central South Carolina, Congaree is home to a unique, swamp-like landscape filled with unbelievably massive bald cypress, oak, gum, and tupelo trees. Beyond this amazing forest, Congaree is also the location of one of nature's most spectacular light shows. Every year between mid-May and mid-June, thousands of fireflies put on a dazzling display of synchronized flashes. One thing is for sure, this remarkable bioluminescent display will have you feeling like you're living in a fairytale! 
MAMMOTH CAVE NATIONAL PARK
Take your journey underground and explore the world's longest known cave system in Mammoth Cave National Park! With over 10 guided tours, it's easy to get a firsthand look at these magnificent caverns. Discover an abandoned hospital that once housed tuberculosis patients, squeeze your way through a constricted cave passage, or walk past massive curtain-like formations of flowstone. Afraid of caves? Don't worry! This park is also great for above-ground activities such as this Mammoth Cave Horseback Ride. 
OLYMPIC NATIONAL PARK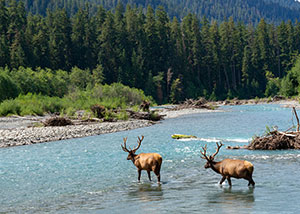 Olympic is truly one of the most diverse parks in America. Start your day by exploring shallow tidal pools along the beach, then make your way into an enchanting forest covered with green moss, and finally, end your day with views of rugged mountains and glaciers. With so many breathtaking landscapes to discover, it can be hard to know where to start. Our recommendation? Embark on a professionally guided tour and see the park through the eyes of a naturalist. Or, for those that enjoy a bit more adventure, consider booking this incredible 3-Day Hiking Tour of the Hoh Rain Forest. 
GREAT SMOKY MOUNTAINS NATIONAL PARK
One of the best things about this park? There's no entrance fee! That's right, you can explore endless hills, mountains, and forests without having to pay. One of the best regions in the park to visit is Cades Cove. Drive an 11-mile loop around this stunning valley and keep your eyes peeled for wildlife including black bears, white-tailed deer, coyotes, turkeys, and so much more! After a morning of wildlife watching, uncover the park's history and view restored structures from the 18th and 19th centuries. You'll feel like you've stepped back in time as you walk past old barns, log houses, churches, and a working grist mill. 
GRAND CANYON NATIONAL PARK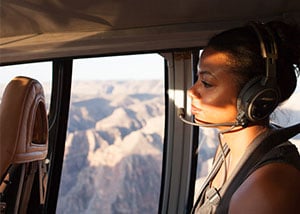 Similar to Zion, this is one park that you might not want to visit in the blistering heat of July. However, with seasonal temperatures being slightly lower in May and September, Grand Canyon National Park is the perfect place to either start or end your summer of adventure. With 277 miles of canyonlands to explore, the best way to take in the sheer size of this natural wonder is in the air! Get a bird's eye view of the canyon from a luxurious (and air conditioned!) helicopter and even make a landing near the banks of the Colorado River. While not actually located within the park, we also recommend that you get an aerial view of the world-famous Horseshoe Bend! 
DENALI NATIONAL PARK
A trip through America's national parks is not complete without a visit to North America's tallest peak. Located in south-central Alaska, you won't find the same amenities in Denali that you would in many of the other parks. Denali only has one road that is mostly gravel and accommodations are limited to campgrounds and a few, remote wilderness lodges. What this park may lack in amenities, it more than makes up for in pristine nature. Watch a herd of caribou, hike into the vast wilderness, or tour the park in an off-road ATV! For a true Alaskan adventure, travel outside the park and climb a glacier or experience the thrill of dogsledding. 
HALEAKALA NATIONAL PARK
When you think about Hawaii's national parks, Haleakala isn't probably the first one you think of, but it definitely should be! Here, you can explore lush rainforests, rocky coastline, or watch a beautiful Maui sunrise from the top of a volcano. Discover this park's magical landscapes on foot with a guided hike of the Haleakala crater. You will truly feel like you are walking on a different planet as you cross ancient lava flows and cinder covered hills that reflect unbelievable shades of yellow, orange, and red. 
YOSEMITE NATIONAL PARK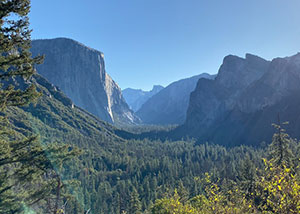 Chances are, you've definitely heard of Yosemite National Park. Yosemite's towering granite monoliths, stunning waterfalls, and giant sequoia trees are truly legendary. One could spend weeks exploring this park and still be in awe of its natural wonders. While in Yosemite, be sure to visit the park's largest tree, watch for rock climbers on El Capitan, and take in breathtaking views of Yosemite Falls and Half Dome. Want to gain a greater understanding of this incredible park? Book a day tour of Yosemite or sleep under the stars with the 3-Day Yosemite Camping Adventure!
If these parks don't sound like your cup of tea, don't worry! There are 53 more of these strikingly beautiful parks calling your name.