Have you and that special someone suddenly found yourselves stuck in a relationship rut? Are your evenings suddenly filled with the same old routine? Are you both in need of an incredible date night?
If this sounds like you, don't worry! Whether you've been together for 5 months or 5 years, coming up with new and creative things to do together can be hard. That's why we've rounded up this list of 25 Fun Things to Do as a Couple. From romantic horseback rides to exciting splatter paint and escape room packages, you'll have a fabulous time reconnecting as a couple while creating lasting memories! 
1. RECREATE YOUR FIRST DATE
Take a trip down memory lane and relive the first time the two of you went out. Visit the same restaurant, order the same dishes, and do your best to revisit all of the date's special moments. The two of you will fall in love all over again as you look back on the day that started it all!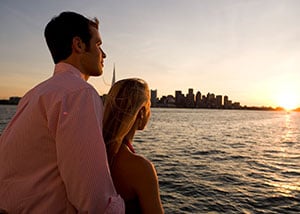 There's something just so romantic about watching the sunset. Grab a blanket, find a secluded spot, and watch in awe as the sky turns brilliant shades of yellow, pink, and orange. To make your evening extra special, consider watching the sunset from the bow of a sailboat with one of these scenic cruising packages! 
3. CREATE A PLAYLIST
Put together a collection of your favorite tunes! Be sure to include songs that spark happy memories and make you think about each other. When it's finished, have a listening party at home or embark on an unforgettable road trip!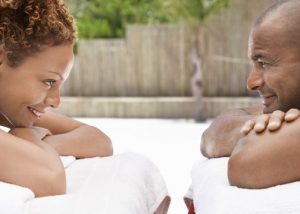 For the couples that love to relax, there's no better way to spend the day than with a luxurious spa treatment! Feel all of your worries melt away as a massage therapist uses different techniques to gently relax your muscles. Following your massage, the two of you will be ready to take on the world!
5. GO ROLLER SKATING
Pick out a vibrant outfit (think rainbow leggings, tutus, sweatbands, etc.) and head out to your nearest roller skating rink! The two of you will have a groovy-good time skating around and listening to music. Glow stick necklaces are also a must! 
Because deep down, we all want to recreate that iconic scene from Ghost. Discover how to transform a ball of clay into a vase, bowl, or even a mug! If you'd rather stay in, consider creating one-of-a-kind pieces from the comfort of home with this Ultimate Pottery Sculpting Bundle. 
7. ATTEND A SPORTING EVENT
Whether you're hardcore football fans or have never seen a game in your life, sporting events are a fun way to get out as a couple. Dress up in your home team's colors, get a little rowdy, and see if you can make it onto the kiss cam! 
8. VISIT A WINERY OR BREWERY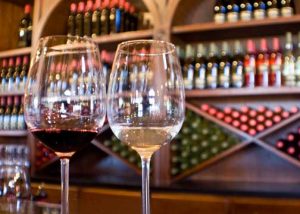 Raise a glass and say cheers to your love with a winery or brewery tour. Learn how each beverage is made, see the facilities, and sample the product (of course!) You might just find your new favorite brew or blend! 
9. LET LOOSE IN A RAGE ROOM
Sometimes life gets stressful, we get it. If the two of you are feeling anxious or bogged down, let all of your frustrations loose in an adrenalizing rage room! Choose your weapons and discover inner peace as you smash, wreck, and obliterate every breakable item in sight! 
The two of you will have to work together if you expect to escape! You'll have a fabulous time finding clues, solving puzzles, and deciphering riddles with these escape room packages. Whether you successfully escape or not, you'll pose for some cute couple photos after your session! 
11. TRY A DATE NIGHT SUBSCRIPTION BOX
Who says you can't have an epic date night from the comfort of your own home? With a date night subscription box, everything you need to create the ultimate night in will be shipped to your doorstep. Choose from a variety of fun themes such as Italian Amore, Adventurous Date Night, Thankful for You, and so much more! 
12. FLING PAINT AT EACH OTHER
Anything goes when you step inside a splatter paint studio! Choose your favorite paint colors and have a blast flicking it onto a blank canvas, the studio walls, and even each other. You won't be able to contain your laughter as the two of you battle it out with a splatter paint war! 
You and your boo are in for a spooky good time with these bone-chilling ghost tours! Visit some of the country's most haunted sites, listen to terrifying tales, and see if you can spot any ghostly figures hiding in the shadows. 
Step away from the stress of everyday life and embark on a luxurious getaway! Plan out your mini vacation with one of these incredible packages, or get a little spontaneous. Book tickets for the next flight out (no matter the destination) or explore a place that neither of you have been before. 
15. THROW SOME AXES
Add some friendly competition to your next date night with axe throwing! Take a deep breath, focus on the wooden target, and see if you can score a bullseye. The winner takes the title of Axe Throwing Champ, the loser has to buy dinner. 
16. GO TO A DRIVE IN MOVIE
Pile your favorite blankets and pillows into the car before heading out to see a drive in movie! Get there early and snag the best seats in the house. Don't forget to bring along a picnic dinner or purchase popcorn, candy, and snacks at the theater.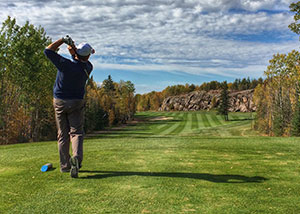 Visit your favorite golf course, putt a ball through a windmill, or head to Drive Shack for the ultimate date night. At Drive Shack, you'll smack golf balls from inside an all-weather hitting bay. Play interactive games and enjoy a complimentary food and beverage credit. Did we mention that they have an incredible chocolate chip cookie skillet?!
18. VISIT A THEMED BAR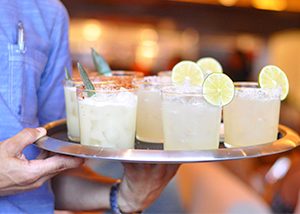 From mermaids and zombies to whimsical circus bars, America is home to some of the wildest bars in the world! For a truly magical outing, consider booking this wizard-themed Cocktail Experience for Two in NYC. Grab your magic wands and learn how to mix, blend, and pour enchanting cocktails. 
19. TAKE DANCE LESSONS
Whether you have two left feet or can tango in your sleep, you and your partner will have a fantastic time choreographing the perfect dance. Get ready to steal the spotlight as you learn how to cha-cha, salsa, or even swing dance!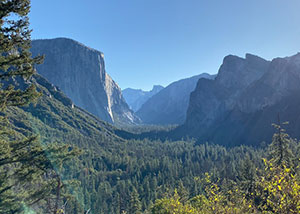 Wander through the woods, climb a mountain, or kayak across a lake with these National Park experiences! Choose to visit your all-time favorite park or go somewhere new. Our recommendation? This Grand Canyon helicopter tour is at the top of our bucket list! 
21. PLAY SOME YARD GAMES
Challenge each other to an epic game of corn hole or put your ladder golf skills to the test! If you don't own either of these games, create your own unique outdoor contest or simply throw around a frisbee. No matter what you decide, spending some time outdoors is a great thing to do as a couple! 
Up, up, and away! Soar into the perfect date with a once-in-a-lifetime hot air balloon ride. The two of you won't believe your eyes as you effortlessly float through the air. After making a safe landing, don't forget to take some cute photos in front of your rainbow-colored balloon! 
23. WORKOUT TOGETHER
Love to hike? Great, go on a hike! Love to rock climb? Grab your harnesses! Just want to lift some weights? Take a trip to your nearest gym. Getting out for some exercise will not only keep you in shape but it will also improve your mood, boost your energy, and help you get better sleep! 
Imagine exploring breathtaking landscapes from the back of a horse. From scenic desert rides to relaxing sunset adventures, these horseback riding experiences make the perfect outing for you and your partner! 
25. MAKE A REEL OF YOUR ADVENTURES
By now, the two of you probably have countless photos and videos from all of your adventures. Instead of slipping your photos into an album, put together a creative online reel! In case you're unfamiliar, reels are short videos where you can combine images and clips to make a slideshow. You'll be able to look back on your incredible adventures for years to come! 
After reading this list of 25 Fun Things to Do as a Couple, we hope your relationship rut is a thing of the past. Want to explore even more romantic activities? Click here to find the perfect outing for you and your boo!