Ah, the City of Asheville. Rolling blue mountains, lush green forests, and a vibrant city life. What's not to love? If you and your boyfriend have never been there before, you definitely need to start planning a weekend getaway ASAP. From driving the Blue Ridge Parkway and hiking through the hills to tarot card readings and e-bike adventures, the City of Asheville is home to countless exciting activities that are perfect for the two of you. Before you start packing your bags, here's our list of unforgettable weekend activities in Asheville.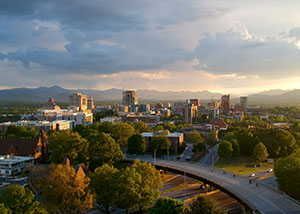 Most people just walk through downtown, but with this exciting e-bike adventure, you can cruise around town and see all the sites in record time! Visit iconic downtown Asheville destinations such as the Basilica of St. Lawrence, Pack Square, the Historic Montford Neighborhood, and more. With the help of your e-bike, climbing up to the Omni Grove Park Inn will be an absolute breeze. From here, you can take in panoramic views of the Blue Ridge Mountains and gaze deeply into your sweetheart's eyes. This is easily one of the most romantic spots in all of Asheville!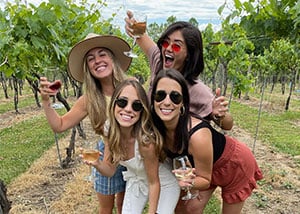 Celebrate the weekend with your boyfriend by embarking on a scenic tour deep into Asheville's up-and-coming wine country. Travel to 3 stunning wineries and indulge in two very generous tastings! You won't be able to stop yourself from walking hand in hand through Asheville's gorgeous vineyards on this North Carolina Winery Tour. Do neither of you consider yourselves wine lovers? You're in luck because wine is not the only alcoholic beverage created here. Asheville boasts some of the best craft beer breweries and cideries in the country. So, grab your sunglasses, find an outdoor patio, and indulge in one of Asheville's best brews! 
3. EXPLORE A MANSION
Who hasn't dreamed of what it would be like to live in a mansion? Visit the biggest home in America with a stop at the famous Biltmore Estate. Built in the late 1800s, this house stands at a staggering 178,926 square feet. Step inside and dive into a world of history and luxury. If you happen to be traveling around Christmas time, the Biltmore Estate is one of the most magical places in all of Asheville. Beautiful harp music fills the halls, a perfectly decorated Christmas tree greets you in every room, and there's one of the most incredible displays of gingerbread houses that you will ever see! At other times of the year, the outside grounds offer over 20 miles of walking trails where you can enjoy views of the neighboring mountains and gorgeous seasonal gardens. 
4. WATCH THE SUNSET
Remember when we said that the view from the Omni Grove Park Inn was one of the most romantic spots in all of Asheville? Well, now picture it at sunset! Step out onto the perfectly named Sunset Terrace and get ready for magic. You and your boyfriend will be awestruck by the views of the Blue Ridge Mountains and even more so as the sky turns shades of pink, purple, and orange. For a truly romantic evening, consider coming to the inn a couple hours before sunset and indulge yourselves in a luxurious spa treatment. Built into the side of the mountain, the spa at the Omni Grove Park Inn is one of the most visually stunning establishments in all of America. You have to see it to believe it!
Ok, so maybe tarot readings don't specifically predict the future, but this personal reading is still a fun and uniquely Asheville activity to do with your boyfriend. You'll start by clearing your minds and removing all distractions (phones, social media, etc.) You'll have the opportunity to ask a question either aloud or in your head before your cards are revealed. Your professional reader will help interpret your cards and explain any possible messages that they may represent. After both of your cards are read, you can ask questions, enjoy a lively discussion, and have a great time making deeper connections with each other!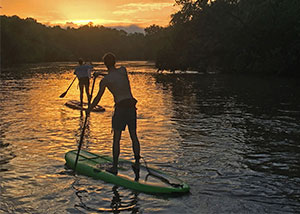 If you're visiting Asheville during the warmer months, then your itinerary is not complete without some time on the French Broad River. Considered the third-oldest river in America, this waterway is home to a plethora of water sports. For the thrill-seeking couples, consider an exciting rafting trip where you can tackle splashing rapids and indulge in a tasty riverside lunch. For a calmer, but just as scenic, day, try your hand at SUP (stand up paddleboarding). You'll both be astonished at how easy it is to balance on these wide boards and you'll quickly be paddling the river like pros! 
7. PLAY SOME PINBALL
Did you know that Asheville is home to one of the most unique museums in the world? Home to 35 old school pinball machines and many other vintage video games, the Pinball Museum is perfect for the playful couples who are also maybe just a tad nerdy. The best part about this museum? You can touch the exhibits! Get ready to pull the plunger and watch as your silver ball flies into the playfield. Keep the ball out of the drain by hitting it back up with your flippers. One thing's for sure, you and your sweetheart will have an absolute blast at the Pinball Museum! 
8. SHOP TILL YOU DROP
Although it may not be his favorite thing, Asheville's shopping scene is truly not one to be missed. Start by exploring the famous River Arts District. Consisting of over 200 locally owned businesses, this is the best place to uncover the artistic side of Asheville. Discover fine art galleries, glass blowing shops, pottery studios, one-of-a-kind restaurants, and so much more! Continue your hunt for local treasures with a stop at the Grove Arcade. Originally opened in 1929, this establishment brings together rich history, ornate architecture, and unique shops.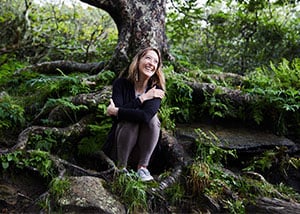 No, we don't actually want you to take a bath in the forest. Forest bathing is simply a unique term used to describe a meditative stroll through the woods. For the couples wanting to explore the magic of our world's wild spaces, this is the perfect experience to add to your weekend itinerary. Take a leisurely walk through the Blue Ridge Mountains and, with the help of a certified forest therapy guide, establish a deeper understanding of the world around you as well as your inner landscapes. You'll both leave this adventure feeling closer to nature and each other! 
10. GO ON A SCENIC DRIVE
Sure, you'll see stunning views of the Blue Ridge Mountains on just about all of the above adventures, but to really experience their grandeur, a scenic drive is a must. Pack some sandwiches and head to the Blue Ridge Parkway, a 469-mile road with outstanding views around just about every curve. Although we don't think you should drive the whole thing all in one weekend, we do recommend driving at least a portion of this road. Consider journeying up to the Pisgah National Forest where you can take in views from the road or discover the area on foot. 
11. HIKE TO A WATERFALL
There's something so romantic about waterfalls. Maybe it's the sound of the water as it gently cascades down a rocky wall. Or perhaps it's the graceful look of the water itself. Regardless, Asheville lies in close proximity to countless stunning waterfalls for you two to explore. For the hiking enthusiasts, consider a 3-mile round-trip jaunt to the appropriately named Rainbow Falls, a 150-foot fall that, in the right light, produces a magnificent rainbow. Not feeling a hike? No worries! Some of the region's most stunning waterfalls are right along the road. These include Dry Falls, Soco Falls, Looking Glass Falls, and so many more!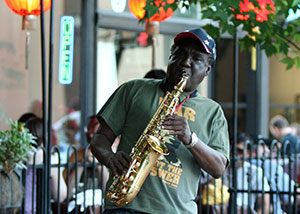 Can't seem to decide which areas of Asheville to explore? Or maybe you're crunched for time? Lucky for you, you can visit many of the city's most iconic sites on this Private Asheville Walking Tour! Walk through downtown with a professional guide and discover hidden gems throughout the city. Hear historical tales while being entertained by a street busker or step into a locally owned shop and find a unique souvenir. Your walking tour will end in the South Slope Brewing District where you and your boyfriend can taste a craft beer or soft drink. The best part? This tour is completely private so you and your honey can enjoy an authentic Asheville experience without other tourists. 
Still not sure? Take it from us, you and your boyfriend deserve a trip away. You both work hard and you've earned it! With activities for every personality, there's truly not a more fitting destination for the two of you than the City of Asheville. Explore all of our exciting Asheville experiences by clicking here. We hope you both have a wonderful, romantic, and relaxing weekend!